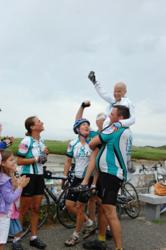 "I do this ride because when that time comes that I don't do the ride, I know that the cancer has won the war. Right now, I am winning every battle."

(PRWEB) July 09, 2012
Amie White's passion and desire to help one day find a cure for cancer is a personal one. Just over six and a half years ago, mom, wife, daughter, sister, and friend, Amie, was diagnosed with ovarian cancer. Since that time she has battled and beaten the disease twice, but in 2011 found herself back in treatment and battling for the third time.
Despite all of this, the fighter in Amie has never given up. With fierce determination to control her own destiny and fight with all of her strength, Amie will participate in her 6th Pan-Massachusetts Challenge (PMC) on August 4th and 5th of this year. Riding to raise money for cancer research and treatment for the millions of people battling cancer and because she can, she will bike across Massachusetts in a two day, 200 mile bike-a-thon through 46 Massachusetts cities and towns alongside her team, Pedal 2 the Mettle. To Amie, this ride the five before it represents her personal vendetta to battle and win against ovarian cancer. "I do this ride because when that time comes that I don't do the ride, I know that the cancer has won the war. Right now, I am winning every battle."
The PMC is the most successful athletic charity fundraiser in the country, donating 100% of every dollar raised to cancer research and treatment. Amie is committed to tackling this challenge because she knows that each mile biked and each dollar raised gets us closer to finding new, better and safer cancer treatments.
Amie's courage and fortitude to fight back against cancer and participate in this amazing event is inspiring. Join her as she bravely continues her battle by getting on your bike, volunteering at the event, cheering along one of the routes, or simply donating to her ride.