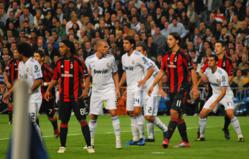 AC Milan and Real Madrid face each other at Yankee Stadium on August 8th. This game is part of the World Football Challenge played in the U.S. and Canada during July and August 2012.
New York, NY (PRWEB) July 08, 2012
AC Milan vs. Real Madrid Tickets are now available for the most exciting upcoming soccer match of 2012 in North America. In early August, Yankee Stadium will host two of the most phenomenal and ultra successful teams in European Soccer history. These two teams are AC Milan and Real Madrid and the date of the big game is Wednesday, August 8th. This is the second international soccer match that Yankee Stadium is hosting during the hot summer of 2012. On Sunday, July 22nd at 7:00 p.m. Chelsea FC will go against Paris Saint-Germain in a friendly exhibition game. This game has also been met with much interest and anticipation from soccer enthusiasts in the NYC area.
Soccer fans on the East Coast are thrilled because this match is indeed a match made in heaven. Put together the reigning Spanish champions, Real Madrid, against AC Milan which is a dynamic and energetic Italian ball of fire on the soccer field. Real Madrid have been the European champions nine times over the years. The years in which Real Madrid dominated European soccer were: 1956, 1957, 1958, 1959, 1960, 1966, 1998, 2000 and 2002. Italian powerhouse, AC Milan also has an impressive record being European champions in: 1963, 1969, 1989, 1990, 1994, 2003 and 2007.
Real Madrid was founded 110 years ago in 1902 and they are members of "La Liga" which is the Spanish Soccer League. They have won 32 domestic titles and 18 Spanish Cup Competitions over the years. They are the first team from Spain to reach a total of 100 points. Their home uniforms which are white are one of their trademarks. Their most decorated player is Cristiano Ronaldo who has scored 60 goals in 55 matches.
AC Milan has been the Italian Soccer League champion 18 times and the runner up 17 times. The soccer league in Italy is named "Serie A." On the field, they wear black and red striped uniforms which make them stand out well against any competition. Last year they finished in second place in their Italian league having won the year before in 2010-11. Their dominant layer is Ziatan Ibramivoc who is a scoring leader in "Serie A" with a total of 28 goals.
The original Yankee Stadium hosted many prominent soccer teams from around the World over the years. For trivia lovers, teams that set foot in the storied Yankee Stadium are: Barcelona, Napoli, Benfica and Sparta Prague, Manchester United, Tottenham Hotspur and Juventus. National teams from Italy, Israel, England and the United States also played at the original Yankee Stadium.
The current Yankee Stadium carries on the great soccer tradition of the original Yankee Stadium, which hosted some of the most famous teams in world soccer, including Manchester United, Tottenham Hotspur, Barcelona, Juventus, Napoli, Celtic, Benfica and Sparta Prague, along with the national teams of England, Israel, Italy and the United States. Pele, who many consider the greatest player of all time, called Yankee Stadium home in 1976, when he played for the New York Cosmos of the North American Soccer League.
AC Milan and Real Madrid have both played other opponents in earlier matches at the original Yankee Stadium. In August of 1968, the New York Generals lost to Real Madrid 4-1. AC Milan was a visitor at the original stadium in June of 1969 and they won matches against both rival team Inter Milan 6-4 and Panathinaikos 4-0.
The future games at the new Yankee Stadium between Paris Saint-Germain and Cheslea FC and Real Madrid and AC Milan are both part of the World Football challenge which North America is hosting at varied venues between July 18th and August 11th. The 2012 World Football Challenge is a series of friendly soccer (futbol) matches that will occur throughout the United States and Canada in July and August 2012.
Cheap Concert Tickets has cheap tickets for all aforementioned soccer matches along with concert tickets, football tickets, theatre tickets and more.