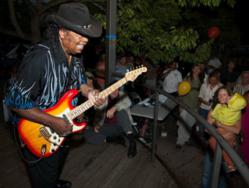 Santa Fe, NM (PRWEB) July 08, 2012
The Santa Fe Bandstand Summer Music Festival line-up for week day two is Guitar Shorty and Eric George & Man No Sober scheduled from 6 to 8:30 p.m., Tuesday, July 10, 2012. Santa Fe Bandstand is a free summer music festival on the Santa Fe Plaza, produced by Outside In Productions and a crew that strives to present the city with a wide range of performers, who represent the diversity and wealth of musical talent in this region. Performances take place Monday to Thursday, through August 16, 2012. All shows are free and open to the public. During evening performances, the first act begins around 6 p.m., the headlining act performs at approximately 7:30 p.m. This day's event and the entire Santa Fe Bandstand Summer Music Festival is on SantaFe.com's event calendar.
Guitar Shorty is well known for his explosive guitar style and wild stage antics. Billboard magazine said, "his galvanizing guitar work defines modern, top-of-the-line blues-rock. His vocals remain as forceful as ever. Righteous shuffles...blistering, sinuous guitar solos."Shorty was born in Houston but grew up mainly in Kissimmee, Florida where he began playing the guitar at an early age and began leading a band not long after. During his time in Tampa Bay, Florida, at age 16 he received his nickname, Guitar Shorty, when it mysteriously showed up on the marquee of the club he was playing as 'The Walter Johnson Band featuring Guitar Shorty. He steadily began to garner accloades from his peers and, soon after, he joined the Ray Charles Band for a year. He recorded his first single in 1957, "You Don't Treat Me Right", for the Cobra label under the direction of Willie Dixon after Dixon saw him playing with the Walter Johnson Orchestra. Eventually, he joined Guitar Slim's band and move to New Orleans, Louisiana. Slim inspired Shorty to incorporate more showmanship into his live performance style. Before long, Shorty was doing somersaults and flips on stage. While in New Orleans, Shorty also fronted his own band which played regularly at the Dew Drop Inn where he was joined by special guests such as T-Bone Walker, Big Joe Turner and Little Richard. He is also well known as Jimmy Hendrix's longtime mentor.
Eric George has been making music for over 20 years, sharing the stage with top diverse national artists from Buddy Guy to Buddy Miles, Rascal Flatts to Keith Urban, Brett Michaels, and Kid Rock. He started in music at 10 years old, playing in his family's band, has toured world-wide and is on the threshold of a music that will touch hearts and minds for years to come.
About SantaFe.com:
SantaFe.com provides locals and visitors to Santa Fe alike the most current interactive platform for events, music, arts, business, dining and lifestyle. SantaFe.com is a division of Hutton Broadcasting, located at 2502 C. Camino Entrada, Santa Fe, NM 87507
Contact Information:
Scott Hutton
SantaFe.com / Hutton Broadcasting
http://www.santafe.com
(505) 471-1067 (Media inquiries only, please)