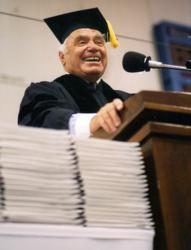 "My mother said to me many years ago, 'If you can make one person happy, make them smile, you've achieved a great deal.' I think I've possibly done that."
Sheboygan, WI (PRWEB) July 08, 2012
Members of Lakeland College's Class of 1997 have a special memory of beloved actor Ernest Borgnine, who died Sunday at age 95.
Borgnine was commencement speaker at the private, liberal arts college near Sheboygan, Wis., on May 24, 1997. Lakeland gave him an honorary doctorate in humane letters in recognition of his distinguished acting career.
He held a press conference prior to the ceremony, and spoke briefly to the graduates, getting emotional after receiving the honorary degree.
"It's because I was wishing my mom and dad were here," said Borgnine, who was 80 at the time. "I'm so proud to be in your graduating class."
Borgnine told Lakeland's 556 graduates that the best part of his acting career was getting "thank yous" from people over the years for entertaining them.
"My mother said to me many years ago, 'If you can make one person happy, make them smile, you've achieved a great deal,'" Borgnine said. "I think I've possibly done that."