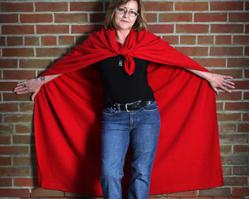 Contrary to popular opinion, life is actually chaos with occasional moments of sanity. I think enjoying the humor in the chaos is the way to get through the day.
New Jersey (PRWEB) July 09, 2012
Sandi Tuttle, host of the BlogTalkRadio show "An Average Woman in a Superwoman World" has united her various enterprises onto one new website, http://www.averagewomansj.com. From her witty radio show providing what she calls "an average woman's perspective", to her YouTube videos, blog postings and other writings, and an updated gallery for HomeBadger Creations, Sandi can now provide her audience with a one stop shop for all her expertise.
Based in New Jersey, Sandi has owned and operated HomeBadger Creations since 2006. The company sells handmade wraps, shawls, ponchos, scarves and tunics all designed and handmade by Sandi herself. Her weekly internet radio show, "An Average Woman in a Superwoman World", is dedicated to the superwoman in all of us. Here she shares her humorous insight on topics ranging from gratitude to hormones and everything in between. An avid blogger, Sandi brings the same wit and straight talk her radio audience hears to the words in her blog. And her newest adventure is a series of YouTube videos entitled "My Two Cents Worth", which will surely continue to bring the humor filled perspective of this self proclaimed Average Woman.
With a growing listening audience, exciting new products for sale, additional blog followers, and starting work on an e-book for 2013, Sandi is anything BUT average. The new website gives Sandi a one-stop format for all her enterprises that enables her to more efficiently and effectively reach her audience. "Having one centralized outlet helps me with branding, as well as gives me faster turnaround for new product launches." Visitors to averagewomansj.com can now easily tune into the radio show, catch up on Sandi's blog and other writings, and even browse her apparel collection.
About Sandi
Internet radio show host, apparel designer and maker, avid blogger, mother, wife and friend, Sandi's goal is to deliberately live with joy and make at least one person smile every day.