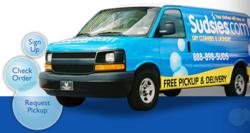 "Here at Sudsies, we give each item a deep cleaning, preparation and ready-to-go delivery for a fresh send-off or storage until next Summer." say Jason Loeb, Sudsies CEO and Founder
Miami, Florida (PRWEB) July 09, 2012
As young South Floridians head to camp this Summer, parents can expect them to return with tales of adventure, new skills, nature souvenirs....and a lot of soiled clothing. Sudsies Dry Cleaners & Laundry eases this load with quick, easy laundry service by the pound. The offering includes all Summer camp necessities from clothing, to linens, to sleeping bags.
"Apparently, the grittier, the better when it comes to kids and the Great Outdoors," says Sudsies Founder and CEO Jason Loeb. "Here at Sudsies, we give each item a deep cleaning, preparation and ready-to-go delivery for a fresh send-off or storage until next Summer."
Sudsies' laundry can be self-scheduled or arranged on automated daily, weekly, or monthly intervals for day camp needs. Sudsies also accommodates bulk loads typical of lengthy sleep-away camp sessions. Priced at $1.89 per pound, the service includes eco-friendly washing, drying, and folding before being placed in neat packaging. The cleaners also specialize in care for sleeping bags, tents and other non-laundered items. For additional convenience, all items can be picked up directly from the home and returned within a two-three day timeframe. Sudsies also recommends taking advantage of the laundry service in preparation for or following lengthy Summer vacations, so families can focus less on packing/unpacking chores and more on their new memories.
Laundry is among Sudsies' many core offerings, which also include green dry cleaning, alterations, restoration services, specialty garment and couture care, as well as on-site home cleaning. All services include complimentary pick-up and delivery six days a week from/to every residence and office across Miami-Dade, Broward and Palm Beach counties. High-tech facilities, in-depth expertise and customer focus are a part of the Sudsies S.M.I.L.E. mantra to provide friendly, impacting experiences for its clientele. More information about Sudsies and its offerings can be found at http://www.sudsies.com or by phoning 1.888.898.SUDS (7837).
About Sudsies Dry Cleaners & Laundry
Miami Beach-based Sudsies is full-service dry cleaning company dedicated to clean clothes, clean service and a clean environment. An industry pioneer for South Florida home pick-up and delivery services, the Sudsies fleet of bubbly, blue and yellow vans offer prompt service to every nook and corner across the tri-county area, while a team of highly-trained specialists care for garments and customers with a smile. The vast range of services includes ecological dry cleaning and laundry processes, alterations and tailoring, clothing restoration, bridal gown storage or alteration and knowledge of specialty items such as couture garments. At Sudsies, customers look and feel their best, while sister company Rugsies Carpet & Drapery ensures customers live in their best with on-site home or office cleaning for carpets, drapes furniture and other home items. For more information about Sudsies, please call 1.888.898.SUDS (7837) or visit us at Sudsies Dry Cleaners.