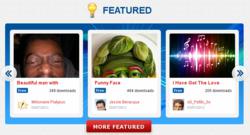 The space of fun.
Ho Chi Minh (PRWEB) July 10, 2012
After a long process of designing, testing and perfecting, Audio4fun has just introduced the new layout for its entertaining website, http://www.make4fun.com, this month. This new look, along with several helpful updates, promises to create much more fun and pleasure for supporters.
With the new layout, all clips, pictures, ringtones and much more are now rated and categorized clearly into different types and topics so that everything can be found easily. Visitors will appreciate the new, faster, easy-to-use search engine. "Hot tags" or "Most viewed" will provide them with some good suggestions when wandering and enjoying. Visitors can even create a list of their favorites and share it with everyone. Thanks to these new features, the huge, weekly-updated Make4fun's store will be more comfortable and systematic in a stylish way.
Appearance is not the only update, as Make4fun now gets more power than ever from its huge resource base. Every click result is faster and smoother; download/upload speed is greatly enhanced; surfing at Make4fun is no longer time-consuming for visitors who can visit, take a tour, or get what they immediately.
At the new Make4fun.com users can register to join the community and have their own personal Wall at the website. They are encouraged to contribute, comment and show their styles, which are all displayed on their Walls. They can also subscribe to get the newest updates, make friends with other users, or see how hot they are with their points and chart.
Audio4fun aims at building http://www.make4fun.com into a global community where everybody can come, take a part and have some fun with each other. Audio4fun is always trying its best to enhance this entertaining website to satisfy every user need, and to provide top quality service to its supporters. Audio4fun will continue listening to its users, updating the site, and continue to respond to the many feedbacks to make more improvements and perfect itself.
Make4fun.com is always open and welcomes every web-surfer. Please pay a visit to enjoy the media products and join this online community. All are just for fun.