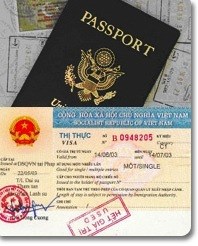 In spite of going online for a short time, the website is popular among a large number of customers
(PRWEB) July 09, 2012
From 11th May, a new website providing Vietnam visa information for every Canadian passport holder has gone online. Acting as one of the local sites of smiletravelvietnam.com, Vietsmile Travel Company, vietnam-visa.ca has been developed to make Canadian passport holders reach and use the service. It runs on the same principles and policies as smiletravelvietnam.com.
Canada is not in the list of Vietnam visa exemption; therefore, every Canadian is required to have a valid visa when entering Vietnam. The aim of this new launch is to meet the increasing demand of Canadian customers in this bounding season. In spite of going online for a short time, the website is popular among customers. The fact is that there is a rise in the number of viewers and applicants booking online.
With the detailed guidelines on the homepage, the web offers customers two options in getting a Vietnam visa. Every Canadian passport holder can obtain a Vietnam visa directly through Vietnam Embassy in Canada. All of the information relating to the embassy is available on the webpage. In particular, customers are provided with the address, phone number, website, fax, and office hours. It wіll take аt lеаѕt 5 days fοr normal processing аnd 2 days fοr urgent processing to get a Vietnam Visa at the consulate in Canada. As for those who want a faster and easier way of getting a Vietnam visa, they can apply one by using online service. Instead of long waiting days, applicants now just spend several minutes on filling in the secure form online. The process is only 2 or 3 working days and they can get an effective visa then. Customers will be offered with free guide during the process at Vietnam visa from Canada. They even get a free Vietnam visa when booking tours, flight tickets, and hotels on this website.