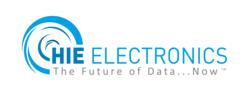 We have a long history with many government agencies and understand the process and requirements of their data retention and storage needs
McKinney, Texas (PRWEB) July 09, 2012
Hie Electronics, a pioneer of innovation for long-term, scalable Active Archive™ and data storage solutions and the manufacturer of the TeraStack® Solution, announced today it will attend the 16th Annual Government Procurement Conference in Arlington, Texas on July 18, 2012.
Hie Electronics will provide the government sector with a view of the TeraStack Solution, an award winning Active Archive™ data storage system designed and manufactured by the Company. It allows for application hosting, 50-100 terabytes of data to be nearline accessible on Blu-ray optical media, and up to 42 terabytes of data on online hard drives. The TeraStack Solution is an industry leader in energy efficiency by using a hybrid data architecture that moves fixed content onto lower cost storage tiers, coupled with Blu-ray media that is used to store the sleeping data, which eliminates the need for hard drives to constantly spin and consume energy.
"Providing the government sector with an up-close look at the key attributes of our award-winning product and its 50-100 year data integrity is a great opportunity for Hie Electronics," said Patrick Humm, Founder and President of Hie Electronics. "We have a long history with many government agencies and understand the process and requirements of their data retention and storage needs."
The main focus for the Conference in 2012 is to provide businesses an opportunity to meet local, state and federal government buyers and their prime contractors.
In addition to government sector applications, the TeraStack Solution can be used for film and video archiving, medical industry applications as well as critical data backup, digital asset management, forensic evidence data storage, geospatial imaging data archiving and storage and digital video surveillance storage.
Media Contact: Howard Hodges: Vice President, Sales and Business Development
(972) 542-2327.
About Hie Electronics
Hie Electronics is a leader in the Active Archive™ data storage system technology industry and the manufacturer of the TeraStack® Solution, an Active Archive™ processing, data backup and archiving system. It allows for application hosting, 50-100 terabytes of data to be nearline accessible on Blu-ray optical media, and up to 42 terabytes of data on online hard drives. The company has been recognized by Frost and Sullivan with the "American Video Surveillance Product Innovation of the Year Award" and the "Data Storage Technologies Green Excellence Award in Technology Innovation," for its ability to reduce energy costs with its storage technologies. A leader in Sustainable IT technology, the Hie Electronics TeraStack® Solution product line delivers a 90 percent energy cost savings when compared with that of current technology. Hie Electronics is an Energy Star Small Business Network participant and a stakeholder in the Energy Star Enterprise Storage Initiative. For more information about Hie Electronics and the innovative TeraStack® Solution, visit the company's website at