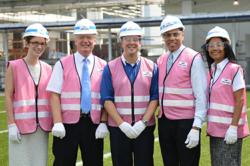 "It is a privilege to visit such an extraordinary school showcasing American educational values overseas," Deputy Secretary Miller said.
Singapore, Singapore (PRWEB) July 09, 2012
9 July, 2012 [SINGAPORE]: The U.S. Deputy-Secretary of Education, Mr Tony Miller made an inspection last week of the largest Kindergarten through Grade 12 education project in the Asia Pacific Region - Stamford American International School's (Stamford) new permanent campus, currently being constructed at Upper Serangoon Road in Singapore.
The new school will be the most advanced learning environment ever built and is an international showpiece for American-style education outside of the United States. At a cost of $300 million, it represents the largest investment in a Kindergarten to Grade 12 education facility anywhere in the region, and a major economic injection into the Singapore economy.
Deputy Secretary Miller is the second highest ranking official in the U.S. Department of Education and is also the Chief Operating Officer of the U.S. Department of Education.
Deputy Secretary Miller inspected the new facility and its state-of-the-art technology that has established Stamford as the new benchmark for international schools around the world.
"Singapore and the U.S. share a deep cultural belief in the importance of education. Both nations understand that a country's economic security depends on the skills and knowledge of its workers," Deputy Secretary Miller said. "It is a privilege to visit such an extraordinary school showcasing American educational values overseas."
Mr Malcolm Kay, Superintendent of Stamford said it was an honor to have Deputy Secretary Miller visit the school.
"Stamford is the school where the rest of the world will come to see the future of education today. The new campus is the perfect environment for preparing children for careers in the 21st century."
"America has a global reputation for innovation and entrepreneurship. Stamford's focus on strong foreign language acquisition such as Chinese and Spanish, coupled with a focus on entrepreneurship and technology innovation, is why parents choose to send their children to Stamford," Mr Kay said.
Stamford was awarded the site by a Government committee chaired by the Singapore Economic Development Board in 2008. The new permanent facility, centrally located at Upper Serangoon Road, will accommodate 2,500 students aged between 2 and 18 and will be officially opened in October 2012.
WORLD CLASS CAMPUS FEATURES
Deputy Secretary Miller's tour of the new campus allowed him to inspect many of the key features of the school including:

Singapore's first Interactive Learning Environment – where guest lecturers and teachers from around the world can interact with students. Teachers will be able to give lectures on site – e.g. teaching about Ancient Egypt from the base of the Great Pyramid
Singapore's first 1 to 1 iPad program for Kindergarten 2 to Grade 5. Older students will have their own MacBook
A 21st century Media Resource Centre - beyond the traditional library, this centre is up to date with the latest traditional as well as technological resources
State of the art science wing and computer laboratories
Comprehensive Art Facilities - dedicated spaces for art, theatre, dance and music, including areas for exhibiting of fine arts and hosting of performances
World-class sporting facilities - 2 swimming pools with ionized water and a 'learn to swim' wading pool, basketball courts, and an outdoor field for various sports including American Football plus indoor gym, including a commercial standard fitness centre
Specially designed Early Years/Nursery facilities, with its own enclosed secure playground
Indoor and outdoor meeting spaces, including student breakout areas
Electronic security system for each child and Singapore's first fully computerized vehicle drop off and pick up facility
For More information please contact:
Lorraine Chua
Rubicon Consulting Pte Ltd
9819 9151
lorraine(at)rubicon(dot)com.sg
ABOUT STAMFORD
Stamford American International School (Stamford) is the new benchmark for excellence in international education in Singapore. With its experienced team of educators, cutting-edge facilities and rich cultural diversity, there is no better way to prepare students for a competitive and fast changing world.
Stamford's academic curriculum prepares students for entry into the world's top universities. Stamford is the first school in Singapore to offer students both the International Baccalaureate (IB) Diploma and the American Advanced Placement (AP) Diploma – giving students an international experience with an American foundation. Stamford also excels in the teaching of languages offering Mandarin and Spanish classes on a daily basis, beginning when students are as young as 2 years old.
Stamford has the most experienced and qualified team of educators at international schools in Singapore. Superintendent Malcolm Kay is the most experienced IB educator in Singapore, with more than 30 years experience. Together with his senior team, Mr. Kay has helped more than 5,000 students enter prestigious universities including Oxford, Cambridge, Harvard, Yale and UCLA.
The faculty is one of the most highly qualified of any international school in the world: 75% have a Master's Degree including 100% of the Middle School teachers. 100% of the faculty is IB trained and more than 80% have international teaching experience.
BIOGRAPHY - ANTHONY WILDER MILLER, DEPUTY SECRETARY
Tony Miller is the deputy secretary and Chief Operating Officer at the U.S. Department of Education. In this role, he manages a broad range of operational, management and program functions.
Prior to joining the Department in 2009, Miller was an Operating Partner with Silver Lake, a leading private equity firm. From 2003 to 2006, he was with LRN Corporation, a compliance software and eLearning company, where he was executive vice president of operations. Prior to LRN, he worked for 10 years at McKinsey & Company, where he was a partner specializing in growth strategies, operating performance improvement and restructuring for companies throughout the United States, Europe and Asia.
Miller began his professional career with Delco Electronics, a subsidiary of GM Hughes Electronics, where he managed regional channel marketing. In addition to his private-sector operating experience, Miller advised the Los Angeles Unified School District from 1997 to 2000, developing student achievement goals and strategies, aligning budgets and operating plans, and designing metrics and processes for overseeing district-wide performance. He undertook similar work with the Santa Monica-Malibu Unified School District in 2001. Through his service as an ex-officio member of the Los Angeles Unified School District Board of Education Budget and Finance Committee in 2002–03, he deepened his understanding of state funding and school district budgeting matters.
Tony Miller is a graduate of Purdue University and holds a Master's in Business Administration from the Stanford Graduate School of Business.