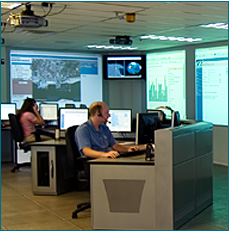 the use of Rapid Data Management System (RDMS) by the American Red Cross will help ARC provide needed support and aid much faster to the unfortunate victims of the disaster caused by the Colorado Wildfires
PORTSMOUTH, NH (PRWEB) July 23, 2012
Global Relief Technologies (GRT) recently announced that the American Red Cross has deployed GRT's proprietary and patented Rapid Data Management System (RDMS) technology solution to assist the American Red Cross (ARC) field workers engaged in support and relief efforts due to the devastation caused by the Colorado Wildfires. RDMS by GRT continues to be a leading mobile data collection, management, and analysis solution for Emergency Response Management, Disaster Recovery, Expeditionary Medicine, Relief & Reconstruction, and United States Military Operations worldwide.
Suzanne Bresette, Executive Vice President of Global Relief Technologies (GRT), had this to say, "We at GRT know the use of RDMS by the American Red Cross will help ARC provide needed support and aid much faster to the unfortunate victims of the disaster caused by the Colorado Wildfires."
The Colorado Wildfires broke out on June 23 and investigators are still trying to determine the cause of the fire which so far has cost roughly over $9 million to battle. Wildfires have destroyed more than 100,000 acres across Colorado, forcing many evacuations. One analysis states Colorado's most destructive wildfire burned homes worth a total of more than $110 million in one of the neighborhoods affected by the blaze. The Denver Post reports the actual losses are expected to run much higher as residents of the Mountain Shadows neighborhood in Colorado Springs calculate the loss of their possessions and the price of replacing the homes. The newspaper reports El Paso County assessor records identified the combined market values of 341 of the destroyed homes at $110.2 million.
Rapid Data Management System (RDMS) by GRT has been successfully utilized by the American Red Cross many times during emergency response and disaster relief efforts including during Hurricane Ike, Hurricane Gustav, Hurricane Katrina, Hurricane Rita, Hurricane Dolly, the Alabama Tornados, the Massachusetts Tornados, Iowa Flooding and the Atlanta Flooding. Each of the American Red Cross (ARC) Damage Assessments collected via RDMS is saved with geo-location information providing mapping of data which provides visibility into geographic areas affected by a disaster and severity of the damage to structures. Additionally, any number of map overlays, including satellite imagery from GRT's partner GeoEye, can enhance the situational awareness of damage displaying rights of way, access points, weather, etc.
GRT's Rapid Data Management System (RDMS) is a flexible and adaptable Total Enterprise Mobile Field-Data Collection & Analysis Solution that provides the ability for field personnel (mobile workforces) to quickly and accurately collect, transfer, manage, share, and analyze data. RDMS by GRT features include an easy-to-use intuitive graphical user interface, 100% real-time two way communication, a Workflow Rules & Computation Engine which guarantees structured data validation and improved accuracy in the data collection process, complete Global Positioning System (GPS) & Geographic Information System (GIS) integrated mapping capabilities, the ability to work in a connected and/or disconnected environment, as well as the ability to be configured without difficulty to meet each user's specific requirements while maintaining the highest levels of security. RDMS by GRT also offers the necessary ability for Emergency Response, Disaster Recovery Teams, and Military Operations to stay connected 24/7 with the option of using Broadband Global Area Network (BGAN) Satellite Communications when wireless or other modes of connection are not available.
ABOUT GLOBAL RELIEF TECHNOLOGIES (GRT)
Global Relief Technologies (GRT) core competency is designing, developing and supporting cutting-edge Total Enterprise Mobile Field-Data Workflow Technology Solutions. GRT's proprietary Rapid Data Management System ("RDMS") technology (1) is easy to use, configure, and integrate, (2) is highly secure, adaptable, and customizable, and (3) offers exceptional real-time mobile field-data collection, communication and collaboration capabilities. Since 2005, RDMS by GRT has proven to perform successfully in normal to extreme work environments all over the world, and has been utilized by the United States Navy, the United States Marine Corp (USMC), the American Red Cross as well as AIR Worldwide (AIR), the Texas Division of Emergency Management (TDEM), and the Maine Forest Service. GRT is a Verizon Wireless Business Solution Alliance Partner, a Motorola Solutions Provider – Gold Level, a member of the AT&T Industry and Mobility Alliance Program, and a Samsung Enterprise Alliance Program Silver Partner. Other formalized GRT strategic business partnerships include: Raytheon, GeoEye, and Vizada. GRT is also a member of the National Emergency Management Association (NEMA) and a GSA Contract holder. For more information about GRT and RDMS by GRT please visit the website: http://www.GRT.com
ABOUT AMERICAN RED CROSS
Since its founding in 1881 by visionary leader Clara Barton, the American Red Cross has been the nation's premier emergency response organization. As part of a worldwide movement that offers neutral humanitarian care to the victims of war, the American Red Cross distinguishes itself by also aiding victims of devastating natural disasters. Over the years, the organization has expanded its services, always with the aim of preventing and relieving suffering. Today, in addition to domestic disaster relief, the American Red Cross offers compassionate services in five other areas: community services that help the needy; support and comfort for military members and their families; the collection, processing and distribution of lifesaving blood and blood products; educational programs that promote health and safety; and international relief and development programs. To donate to a local chapter of the Colorado Red Cross to support disaster relief efforts for those affected by wildfires, call 1-800-REDCROSS or visit http://www.coloradoredcross.org and click "Donate Now." Specify that the donation should go toward disaster relief, or choose for the money to go to the area of greatest need at the time of donation.