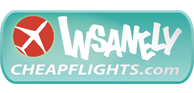 (PRWEB) July 09, 2012
With record heat scorching a much of the country this past week, InsanelyCheapFlights.com put together a list of its top spots for a cool getaway this summer. Ranging from North America to the other side of the world, these locales are the perfect places to beat the heat. Instead of just providing a list, however, the site is going further and discounting flights to these destinations from most major U.S. airports.
1. Alaska - No passport needed for the first destination, and with Juneau a short two and a half hour flight from Seattle, Washington, it's also one of the closest. With some of the largest unspoiled areas on the planet, Alaska is a great outdoor destination. Sail the shoreline on a glacier-viewing Alaskan cruise – just make sure to use the promotion code on InsanelyCheapFlights.com to save on a cheap flight to Alaska.
2. Reykjavik, Iceland – At the height of summer, the average high temperature in Reykjavik is a balmy 56 degrees Fahrenheit. If that's too cold, check out the Blue Lagoon, Iceland's geothermal spa, where the water is constantly around the hundred degree mark. Other things to see include Iceland's many waterfalls and glaciers.
3. Vancouver, Canada – Another relatively close destination, there's plenty to do in Vancouver. Visit Whistler Village, home of the 2010 Winter Olympics, or walk down the cobblestone streets of historic Gastown.
4. Chile – Summer in the northern hemisphere means winter in the southern hemisphere. There's great skiing to be had in Chile this time of year, while culture buffs can head to Easter Island to view the famous moai statues.
5. Australia – The more aquatic-inclined visitors can check out the Great Barrier Reef, while those choosing to remain on shore have an entire continent to choose from. Explore the Outback or opt for a dose of civilization at the iconic Sydney Opera House.
Discounts on flights to all of the above destinations can be found on InsanelyCheapFlights.com. A promotional code displayed on the homepage can be used when booking airline tickets to apply the discount. The savings apply to service fees and are valid for flight bookings only.