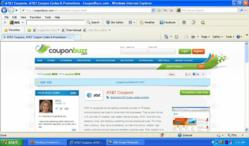 Consumers who bundle services, can usually save a bundle.
Houston, TX (PRWEB) July 09, 2012
A new AT&T coupon for 40% off an nice bundle deal was featured today in CouponBuzz.com's special section dedicated to promotional offers and coupon codes from AT&T. Coupons for telephone, television and internet service can be found on the merchant-specific webpage, but today's featured coupon was for an AT&T service bundle of U-Verse Internet and digital television. Now for a limited time, online shoppers can get $56 dollars (roughly 40%) off their U-Verse Internet and TV for the first six months, lowering the price to an impressively trim $79 a month.
"Switching to one provider to service both your internet and television addiction is called 'bundling,' explained Justin Bowen, a representative of CouponBuzz.com. "And bundling is one of the best ways for a consumer to save money on essential services. One of the reasons AT&T is able to offer rates this low is because they already have the infrastructure in place. This gives them the ability to offer an increased variety of services at limited overhead cost, simply by bundling those services together in one price package. Consumers who bundle services, can usually save a bundle."
Interested individuals can check out what AT&T services can be bundled from any of the links on CouponBuzz.com's AT&T merchant webpage. This particular coupon for 40% off the AT&T U-Verse internet and television bundle includes two HD-ready receivers with Total Home DVR capability and a $100 dollar promotion card money-back offer. The U-Verse television package is for U-300, which features up to 360 of the most popular digital television channels, including 53 premium movie channels and sports favorites like NBA TV and MLB Network. The internet service is AT&T's Max package, with downstream speeds of up to 12 Mbps.
This particular AT&T coupon expires July 14, 2012. Although there are always good deals to be had, this is a really great offer for individuals interested in upgrading their television service or consolidating their internet and television providers in a bundle. These rates apply only to the U-verse service bundle, and require a one year contract. Full details, as well as the link to access this particular AT&T coupon, are located here http://couponbuzz.com/att-consumer-coupons.html.