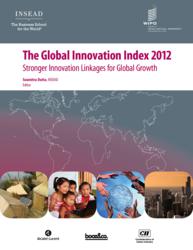 New York, NY (PRWEB) July 09, 2012
According to the recently released 2012 Global Innovation Index (GII), the US appears to be losing its lead as an economic innovator, putting in jeopardy its prospects for recovery and growth in the face of a deepening national and global economic crisis.
The GII 2012 was released by INSEAD, the leading the international business school, and the World Intellectual Property Organization (WIPO, an agency of the United Nations). It ranked the prospects and capabilities for economic innovation of 141 nations.
Top 10 Leaders in the Global Innovation Index
1 Switzerland
2 Sweden
3 Singapore
4 Finland
5 United Kingdom
6 Netherlands
7 Denmark
8 Hong Kong (China)
9 Ireland
10 United States of America
Significantly this year, the U.S. dropped from 7th place in 2011 to 10th place this year. The report shows that the U.S.A. continues to be an innovation leader but also cites relative shortfalls in areas such as education, human resources and innovation outputs as causing a drop in its innovation ranking.
Regional leaders in the overall GII and the BRIC countries
The leaders in their regions are: Switzerland in Europe, the US in Northern America, Singapore in South East Asia and Oceania, Israel in Northern Africa and Western Asia, Chile in Latin America and the Caribbean, India in Central and Southern Asia, and Mauritius in Sub-Saharan Africa. Among low-income economies the leader is Kenya.
Soumitra Dutta, Roland Berger Professor of Business and Technology at INSEAD and the founder of the GII noted, "The GII seeks to update and improve the way innovation is measured. Today's definitions must capture an environment which is context-driven, problem-focused and interdisciplinary. The 2012 variables were broadened in an effort to find the right mix which captures innovation as it happens today."
The report notes a need for the BRIC countries (Brazil, the Russian Federation, India, and China) to invest further in their innovation capabilities to live up to their expected potential. China's performance on the key knowledge and technology outputs pillar is outpaced only by Switzerland, Sweden, Singapore, and Finland. However, the report notes that both China and India have weaknesses in their innovation infrastructure and environment. The report also notes that Brazil has suffered the largest drop among the BRICs.
This is the fifth year the GII has been published, and the first in which INSEAD and WIPO are co-publishers. The Global Innovation Index (GII) project was launched by INSEAD in 2007 with the goal of determining how to find metrics and approaches to better capture the richness of innovation in society and go beyond such traditional measures of innovation as the number of research articles and the level of research and development (R&D) expenditures.
To download the full report or see additional highlights, economy profiles and rankings, please visit: http://www.globalinnovationindex.org.