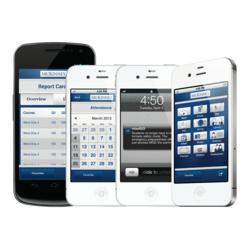 We wanted to give our parents a comprehensive and efficient way to access what they want when they want— WillowTree Apps' new Mobile Education Platform allowed us to create our school's mobile app
Chicago, IL (PRWEB) July 09, 2012
Schools looking to increase parent engagement just got a valuable new tool with the release of the WillowTree Mobile Education Platform™ (MEP) which was announced today at the National School Public Relations Association (NSPRA) National Seminar.
The platform allows K-12 school districts to work with WillowTree Apps to quickly and easily design, build and deploy native mobile apps and HTML5 websites designed to give parents single sign-on access to all relevant school information such as school news, calendars, maps, lunch menus, arts and sports information as well as a password protected area for critical student information including attendance, grades, progress reports, and assignments.
The app is also designed with a push alerts/notifications function for schools to use with emergency and alerting systems in the event of severe weather, school closings or other critical events, or to alert parents on issues specific to their children (such as unexcused absences)
While parents get the benefit of a single sign-on to access all information, schools get a similar benefit behind the scenes. The platform typically integrates with a school district's wide variety of existing information systems so there is not a need for major new IT investments or the entering of information into yet another system.
For some parents, making school information accessible via mobile means giving them first time electronic access. While mobile Internet started out as a luxury product today it's often the first and only way more and more parents have to access the Internet.
Texas' McKinney Independent School District is the first district to roll out an app based on the Mobile Education Platform (MEP) with its misdGO app for Apple (iOS), Android, HTML5 and Blackberry. "We wanted to give our parents a comprehensive and efficient way to access what they want when they want—and we also wanted to find a way to save money in the process," said Cody Cunningham, Chief Communications Officer, McKinney Independent School District. "WillowTree Apps' new Mobile Education Platform allowed us to create our misdGO app quickly and efficiently without having to invest in whole new systems—and we were even able to make it easy for our parents by letting them use their current website logins. All of this allowed us to reduce our printed newsletter efforts, resulting in net savings."
About WillowTree Apps
WillowTree Apps is one of the largest and most respected mobile development companies in the US. The entire 36+ person team is located in Charlottesville, VA headquarters. Nothing is outsourced overseas. The company's designers are experts across the nuances of iPhone, iPad, Android, Windows Phone 7, Blackberry and mobile web/HTML5 design best practices. The company has won numerous awards and team members are frequent speakers at mobile design conferences. Notable clients and apps include the University of Virginia, Syracuse University, Johnson & Johnson, the Game Show Network, Crutchfield Electronics, and Vox Media/SB Nation. More information at: http://www.willowtreeapps.com/apps/education/.