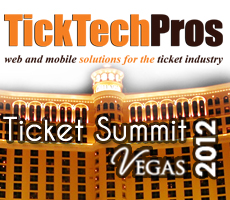 Web and Mobile Solutions for
Ticketing Industry
Irving, TX (PRWEB) July 12, 2012
Online ticketing web development experts TickTechPros are launching a line of new products and services targeted at increasing sales and customer service for small business ticket broker websites. The company specializes in integrating technology with proven online sales methods. A new book titled "21 Ways to Increase Online Ticket Sales" is also available as a free download. The experts at TickTechPros.com will also be available at an upcoming industry conference to demonstrate their web and mobile products and provide face to face free consultations.
Services offered by TickTechPros now include easy to manage plug-in websites that offers content management, rotating images, search engine optimization and cost effective solutions that are accessible to small business owners. Easy to manage XML solutions offer the same cost effective management with added functionality like user and member workflows and live chat modules. The experts at TickTechPros also offers smart phone apps, including apps for iPhone and Android. The company specializes in delivering solutions that keep up with online shopping trends, offering mobile application development and online marketing services. The professionals at TickTechPros engage clients in all phases of design and development of their web and mobile solutions.
The team at TickTechPros will sponsor a booth at the 2012 Ticket Summit in Las Vegas, Nevada. Attendees can visit with the experts at booth 114 in the ballroom of the Bellagio Hotel on July 11 and collect a printed version of "21 Ways to Increase Online Ticket Sales." Attend panels on topics like innovative technologies, SEO for the ticketing industry, legal issues, Google trends and bundling, then stop by for some one-on-one attention from our ticketing and development professionals. TickTechPros provides cost-effective, excellent solutions to increase sales or develop functionality for your site and smart phone apps.
Business owners and website managers who cannot make it to the Ticket Summit in Las Vegas can visit the TickTechPros site to download a free book titled "21 Ways to Increase Online Ticket Sales." The book will share the secrets learned by Arun Kumar and Roger Decker the hard way. The book features easy to follow advice specific to generating ticket sales, proven technology methods, social media marketing tips, and information on harnessing the power of blogging and direct mail campaigns. Arun uses his experience and education in both the web development and business management spheres to provide an integrated technology approach to online ticket sales. Roger Decker with over 20 years of ticket industry experience gives TickTechPros a strong inside and client perspectives.
About TickTechPros:
TickTechPros team created their solution in 2010 and has spent the past two years developing accessible solutions for business owners in the ticket industry. The company brings together technology experts and ticketing industry domain knowledge to design and implement the best solutions available today for ticket broker website and mobile app design.