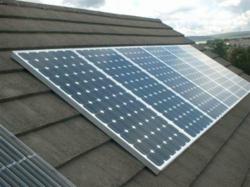 London, UK (PRWEB) July 11, 2012
Solarroofpanels4u.co.uk is warning people in the UK that time is running out to install solar panels before the proposed changes to the Feed in Tariff scheme come into effect on the 31st of July. Households which install panels with an eligibility date on or before the 31st will be able to enjoy the current rates of Feed in Tariffs before they are reduced.
From the 1st of August significant changes will be made to the way Feed in Tariffs are calculated. The proposed changes have been met with a degree of controversy from various green groups in the UK as well as from the solar panel industry itself. This is the third change to the Feed in Tariff scheme in little over a year and has seen the amount paid to households with solar panels slashed from 43p/kWh in 2011 to just 16p/kWh when the latest changes are introduced.
The current rate of 21p/kWh paid to households under the current generation tariff will be reduced to just 16p for systems installed after the 1st of August. At present rates with household with a 4kW system could expect to receive around £670 in payments for the electricity they generate using solar energy. This will drop to around £500 per year once the changes are introduced which will have the effect of increasing the amount of time solar panels systems need to recover their initial cost of investment.
While the export tariff (electricity sold back to the National Grid) is being increased the effect of this will be minimal. Currently the export tariff is 3.2p/kWh and it will be increased to 4.5p/kWh. However the export tariff is only worth around £40 per year to the average household and increasing it will not compensate for the losses in the generation tariff.
Solarroofpanels4u.co.uk says that there is still time (just) to order and install solar panels UK before the deadline date. More information about solar panels and the proposed changes to the Feed in Tariff is available from the website.