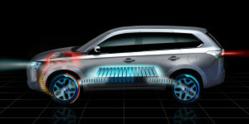 (PRWEB UK) 11 July 2012
Mitsubishi multi-mode Outlander will set the pace. After playing catch up to rivals in the EV sector, Mitsubishi will steal a march on them with the Paris motor show unveiling of its new generation Outlander, the first model to be designed from scratch to take a conventional engine or become a plug-in hybrid.
The Outlander Plug-in Hybrid EV uses two motors as well as a petrol engine and they can be programmed to work independently or together.
When fitted to the New Outlander, the Mitsubishi Plug-in Hybrid system will allow for a long haul range and very low emissions similar to that of the Concept PX-MiEV II show car, so it has a driving distance of 500 miles and a CO2 target below 50 g/km.
Whilst the New Outlander ICE will start its commercial career in Western & Eastern Europe in the winter of 2012, the Outlander Plug-in Hybrid EV will be retailed in Europe during the course of 2013.
The rivals are to be found and compared in any business car leasing section and people will also find it useful to compare figures in any company car comparison charts.
Contact: Barbara
info@weboptimiser.com
http://www.businesscarmanager.co.uk