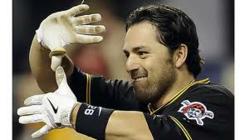 Pittsbrugh PA (PRWEB) July 09, 2012
In the last week before the MLB All Star break the Pittsburgh Pirates could not be hotter. They went 6-1 on this past home stand by sweeping the Houston Astros and taken two out of three from the San Fransisco Giants over the weekend. Averaging 25,000 fans for the four weekday games versus the Astros and just under 35,000 against the Giants. This is a tell tale sign that the Pirates' fan base is starting to come around and believe in their Buccos. After 20 consecutive losing seasons that dates back to 1992 the typical Pirate fan has been hesitant to jump aboard the Bucco train, waiting on the other shoe to drop. That all seems to be changing based on the weekday attendance. The Pirate players and their fans have rallied around the "Zoltan Z". A hand gesture taking from the 2000 movie, "Dude Where's my Car?". For many, the Zoltan Z symbolizes chemistry that is clearly taken place inside the Pirates' dugout and embraced by Pirates fans.
On Monday July 9th Major League Baseball's Home Run Derby will put the Pittsburgh Pirates in the national spotlight when star Center Fielder Andrew McCutchen takes the plate for his turn during the competition. During the broadcast the announcers are likely to speak solely about the Pirates and their success thus far in 2012, a national boost that Pittsburgh Baseball has been lacking for years.
Pittsburgh Pirates Tickets are sure to be a hot ticket in the second half of the season, with a home record of 29-14 the home attendances will sure to increase as well as the away attendance when the Pirates come to town. Pirates Tickets can be purchased at Headline Tickets Now with an exclusive limited time discount code. Discount Code "Zoltan Z" saves fans 2 percent off the already lowest out the door prices on the secondary ticket exchange.
Headline Tickets Now is one of the most popular secondary ticket websites on the Internet. They have affordable sports, theater, and concert tickets across the United States and Canada, all without service fees. Headline Tickets Now is an accredited business with the Better Business Bureau (BBB) of Western Pennsylvania.