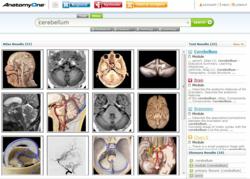 With AnatomyOne's custom atlases, faculty can guide students both inside and outside the classroom.
Salt Lake City, Utah (PRWEB) July 11, 2012
In late June 2012 Amirsys released its new comprehensive online anatomy learning resource, AnatomyOne. While the product will turn the world of anatomy education upside down in a number of ways, a particular highlight for both students and faculty is AnatomyOne's unparalleled variety of images.
Traditionally, studying anatomy has been a painstaking process for students as they cross-reference multiple resources to find different types of images.
"Anatomy is a visual learning experience for me. During a study session, I regularly look through two or three different atlases and texts, plus a few online resources, to find all the images and content I need to really understand the subject," says Katie Blevins, a second-year medical student.
AnatomyOne addresses this problem head-on by bringing together multiple image types into a single, highly searchable and integrated resource. AnatomyOne's exhaustive library of images includes illustrations, cadaver photographs, radiology images, and histology images. Students can search and compare different images types of the same structure, further enhancing comprehension. In addition, the variety of images means students can customize their learning experiences, choosing the image types best suited for their needs.
Just as students can use AnatomyOne's variety of images to learn their way, educators can use custom atlases to teach their way. Faculty can hand-pick collections of images in AnatomyOne and share them with students through course outlines, PowerPoints, and PDFs.
"With so many different image resources available, medical school faculty often struggle with giving students a consistent learning experience between lecture and personal study time," says Dr. Ann Zumwalt, Course Director for the Medical Gross Anatomy course at the Boston University School of Medicine and AnatomyOne author. "With AnatomyOne's custom atlases, faculty can guide students both inside and outside the classroom."
To learn more about AnatomyOne, visit http://www.anatomyone.com.
ABOUT AMIRSYS
Amirsys, Inc. is a leading provider of innovative online healthcare solutions in medical education, radiology, pathology, and surgery. Over 99% of North American academic medical centers use Amirsys products daily. Through use of its proprietary technology and image-intensive, expert and evidence-based content, Amirsys provides online problem-solving solutions to thousands of radiologists, pathologists, surgeons, and residents-in-training worldwide.