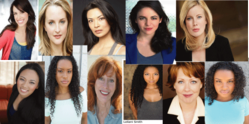 "The Legacy Letters LIVE brings women's most interesting and personal stories alive in an unfiltered and unsuppressed environment."
Los Angeles, CA (PRWEB) July 10, 2012
Inspired Girls International, a Los Angeles-based personal development brand for women today announced "The Legacy Letters LIVE," a groundbreaking and uniquely inspired stage production based on the critically acclaimed anthology, The Legacy Letters. The book, released late last year, features a collection of letters from 30 women to the teenage version of themselves sharing their lessons on life, career, personal development, relationships, and love, while offering messages of encouragement and support. The show features a cast of 11 seasoned performers who will perform pieces inspired by letters in the book.
The Legacy Letters is a passing of the torch from today's feminine leaders to the next generation of women change agents. Like the book, The Legacy Letters LIVE features the stories of handpicked women who span various backgrounds, ethnicities, experiences, and age groups. The book answers several important questions: If you could sit in a room today with the teenage version of yourself - knowing what you know now about life, what would you say? What wisdom would you offer? What experiences would you share? What insight would you impart?
"The Legacy Letters is an everyday empowerment tool for any young woman navigating the waters of womanhood. Some stories will make you laugh, some will make you sigh, and others will lead you down your own path of self-discovery," said Rachel Huggins, assistant online editor for USA Today.
The LIVE show explores a bevy of themes highlighted in the letters including identity, sexuality, religion, loss, and health.
"This won't be another 'girl power' type of show. This is about the importance of self-reflection and realizing that we're all creating a legacy so we should be intentional about the one we're creating.," said Lisa Nicole Bell, the creator of the anthology and executive producer of the project. "The Legacy Letters LIVE brings women's most interesting and personal stories alive in an unfiltered and unsuppressed environment. The diversity of the cast and contributors reveals how complex the modern feminine experience is while also revealing the commonalities that exist between us all."
Women, men, and teens over 13 are invited to attend. The performance begins at 6 p.m. PDT on Sunday, July 22, 2012, at the Elephant Stages' Lillian Theatre in Los Angeles at 6322 Santa Monica Blvd. Tickets are $25 and can be purchased via: http://www.legacyletterslive.com Complimentary press passes are available.
Additional information about the book is available at http://www.fromherpen.com.
About Inspired Girls International
Inspired Girls International (a subsidiary of Inspired Life Media Group) exists to create global impact for girls and women by educating and equipping the next generation of feminine leaders to exceed their overall potential. For additional information, please visit: http://www.inspiredgirlsonline.com
About Lisa Nicole Bell
Lisa Nicole Bell is equal parts artist, businesswoman and motivator. As the CEO of Inspired Life Media Group she and her team meld art, social change, and commerce to create economically viable media properties. Lisa is also an award winning actress/producer, media personality, author, and entrepreneur. Using entertainment and media, she achieves her simple mission - to create meaningful social change through storytelling and transformational media. For additional information, please visit: http://www.lisanicolebell.com
###
Media Contact: Lisa Nicole Bell Phone: 1-888-339-7404 Ext. 7, Fax: 928-441-9425, Email: lisa(at)lisanicolebell(dot)com