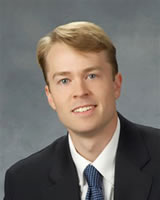 I am honored to have been elected to the Board of this association.
Columbia, MO (PRWEB) July 11, 2012
Adam Dowling, a Columbia criminal attorney at Eng & Woods, was recently elected to the 2012-13 Board of Directors for the Missouri Association of Criminal Defense Lawyers (MACDL). The organization provides a way for criminal defense lawyers in Missouri to interact and share their legal experiences.
Attorney Dowling earned his Juris Doctorate from the University of Missouri in 2006. He began working as a law clerk at Eng & Woods in 2005, before joining as an associate attorney the following year. His legal practice includes the areas of criminal defense, DWI, and felony and misdemeanor defense, including homicides, drug crimes, sex crimes, property crimes, and white-collar crimes.
When asked about his new role, Attorney Dowling stated, "I am honored to have been elected to the Board of this association, which defends the rights of Missourians and helps to ensure liberty and justice across the state."
The Board of Directors for the MACDL consists of 18 attorneys from law firms throughout Missouri.
About the Firm
The law firm of Eng & Woods in Columbia, MO provides seasoned legal assistance for clients throughout Missouri and surrounding states. In addition to criminal law, Eng & Woods also provide assistance in the areas of personal injury, family law, and workers compensation.
Founded in 1953, the experienced team of Columbia lawyers at Eng & Woods have been providing high-quality, efficient legal services to clients for nearly 60 years. For more information about the firm and how they can help you, please visit http://www.engandwoods.com or call 877-888-2345.