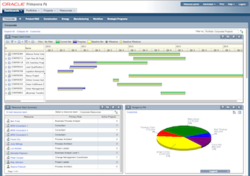 Virginia Beach, VA (PRWEB) July 10, 2012
Ten Six Consulting, LLC introduced its 1-day Primavera P6 EPPM Administrator training class focused on using the administration functions within P6 EPPM. Delivered by seasoned veterans, some of who have taught over 1,300 students, this training class takes a student through the administration capabilities of Primavera P6 EPPM.
"Oracle Primavera P6 EPPM is one of the most widely used enterprise project management tools and we are excited to announce this class which both augments and extends our existing suite of Primavera P6 training courses" said Emily Foster, Director of Marketing. "This class is also available as an online course with a personal instructor. Given the numerous options and decisions that have to be made when setting up and administrating Primavera P6 EPPM, this one-on-one training approach ensures that you make best practice configuration decisions the first time around."
More details on the new class are below:
Primavera P6 EPPM Administrator (1-day class) - This course offers not only detailed instructions on the administration functions of Primavera P6 EPPM, but also provides context on the way these capabilities are used in the real world. Learn more at http://www.tensixconsulting.com/primavera-p6-eppm-administrator/
Developed and delivered by trainers with a minimum of 22 years experience in implementing enterprise project management, our courses provide a truly unique, positive and valuable learning experience. " Individuals selecting our instructor led, online, one-on-one training class will gain so much more than by attending a generic open class. Open classes typically have many attendees from other organizations vying to have their questions answered and their individual implementation challenges discussed. Our one-on-one training can focus on helping you make the right Primavera P6 EPPM configuration decisions the first time around, avoiding any trial and error and rework," says Foster.
For more details about this Primavera P6 EPPM Administrator training class and other training classes offered by Ten Six Consulting, visit http://www.tensixconsulting.com/training/
About Ten Six Consulting - Ten Six Consulting specializes in implementing Enterprise Project Management (EPM), Project Portfolio Management (PPM) and Earned Value Management (EVM) solutions. As experts in implementing enterprise tool suites from Oracle Primavera, Deltek and Microsoft, Ten Six Consulting has unparalleled experience in successfully integrating these tools into client organizations, significantly improving their Project Management, Project Portfolio Management and Earned Value Management capabilities.
Contact: Emily Foster, Director of Marketing Ten Six Consulting, LLC Phone: 703-910-2600 emily(dot)foster(at)tensixconsulting(dot)com