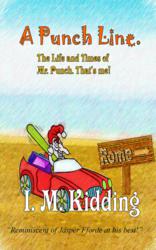 My début in London was a great honour for Mr Pepys
(PRWEB UK) 13 July 2012
Whilst much of the UK has been busy celebrating either the Olympics or The Jubilee, many people have been marking Mr Punch's 350th birthday. But complaints have been coming from an unexpected quarter, Mr Punch himself.
"It's not my birthday," he claims. "It's actually the 350th anniversary of my first public appearance in London. I was born 500 years ago."
Mr Punch has recently written his autobiography entitled "A Punch Line" and published it under the Nom de Plume I.M. Kidding. The book details his early life in Italy and his later journeys around the world. In it he claims his actual birth date is in the fifteenth century but he can't remember exactly when. He first appeared in London in 1662 in front of Samuel Pepys and some of his chums, an event he describes as "A great honour for old Sam".
"I don't understand why people get so fixated on that date as my birthday," he continued. "Anybody who was there will tell you I clearly wasn't a young man even then."
Still looking remarkably good for a man approaching his half millennium, Punch continues to entertain all across the UK and in the US as well as Australia. His familiar red and white tent can be found on many beaches where he still enthralls, and sometimes terrorises, children of all ages.
A Punch Line was published by Mirador Publishing after lengthy negotiations with the author and much pleading for him to use grammatical English instead of colloquial Puppetese. A battle which Mirador lost.
For further details contact Mr Punch himself via his website at http://www.imkidding.co.uk or through his publishers Mirador at http://www.miradorpublishing.com