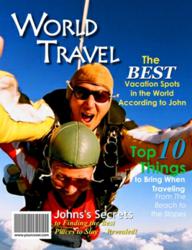 Very creative program enabling the user to customize the cover with endless possibilities
Wilton, CT (PRWEB) July 26, 2012
YourCover has been offering personalized magazine covers since 2000 but is continually updating and offering new themes, titles and ideas to satisfy customer needs. Two new magazine cover templates help consumers create distinctive keepsakes of their summer vacations and special trips. The new magazine cover titles are "Family Vacation" and "World Travel".
Creating fake magazine covers to remember special vacation memories is easy to do. Users upload a photo to the YourCover website and then personalize the headlines on the cover to specifically reflect the vacation they took. Pre-written headlines are available or users can create their own plus there are tools for editing the photo as well as font style, color and size. The magazine cover is available for download or users can choose to have YourCover print and frame their magazine cover to create a long lasting memory of a wonderful trip.
While the "Family Vacation" magazine cover is perfect for capturing special memories of a familty trip, the second fake magazine cover "World Travel" is just right for those friends or family members returning from travels across the globe. Even better, the photos they shared online or by email can be used to create the cover so the gift is ready and waiting for when the person returns.
In addition to the new fake magazine cover designs, YourCover has changed print sizes from 8 1/2'' x 11'' to 8'' x 10''. Although YourCover offers 6 different frame choices for the magazine cover photo prints, some consumers prefer to purchase the frames on their own. Also, consumers who print their magazine cover from the photo file download need to purchase a frame locally. Frames sized at 8' x 10" are much easier to find and therefore the new print size better accomodates YourCover's customers.
YourCover offers over 80 different fake magazine covers to help consumers celebrate all kinds of special events and holidays as well as covers showcasing varied interests and hobbies. Whether a personalized gift is needed for a milestone birthday, an important anniversary, a retirement celebration or for the cutest dog in the world, YourCover has a fake magazine cover that will make the gift the hit of the party. As a recent customer said, "Very creative program enabling the user to customize the cover with endless possibilities."