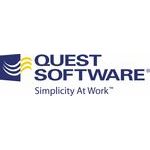 Aliso Viejo, CA (PRWEB) July 10, 2012
Quest Software, Inc. (Nasdaq: QSFT) today announced that Spotlight on SQL Server Enterprise, an industry-leading SQL server monitoring and diagnostics solution, has been named the Best of TechEd 2012 winner in the Relational Database category. Spotlight for SQL Server Enterprise was selected for its ability to provide in-depth physical, cloud, and virtual SQL diagnostics, allowing administrators to diagnose problems that they may have missed.
"We take pride in our reputation for helping customers address increasingly complex IT challenges, like the need to provide optimal database performance 24/7," said John Newsom, vice president and general manager, performance monitoring for Quest Software. "We've added critical functionality to Spotlight for SQL Server Enterprise to meet this challenge, so database administrators can identify critical issues affecting database performance via a traditional client interface from a laptop or desktop system, or via an advanced mobile application from a smartphone or tablet. This Best of TechEd 2012 honor validates our belief that database administrators must be able to monitor server status whether they're in their office or on the road."
The Best of TechEd 2012 awards recognize companies that offer innovative products for the industry. The judges reviewed 297 products and services submitted for the award and chose 46 finalists to be interviewed at the Microsoft TechEd North America 2012 Conference in Orlando, Fla. All winners of the Best of TechEd 2012 awards were announced at an invitation-only evening reception at Universal CityWalk in Orlando.
"We narrowed down a list of almost 300 products this year to 46 deserving finalists – an honor in itself," said Jason Bovberg, senior editor of Windows IT Pro. "All 46 finalists represent highly distinguished products and services in their categories. We love all these products! But, through our research and show floor interview process, we managed to choose this year's winners. Our 2012 Best of TechEd winners stand apart from the pack, either offering an edge in product functionality, boasting enhanced feature sets in new versions, or introducing innovative technology."
Spotlight on SQL Server Enterprise provides database administrators with valuable information about how their entire SQL Server environment is functioning, by monitoring and diagnosing problems not only on their SQL Server systems, but also on their related Windows Server and VMware systems. The product features mobile device support, a Heat Map to prioritize issues, and diagnostics information that locates and suggests the most common scenarios that would cause a specific problem, then rates them based on each specific situation.
Find more information on Spotlight on SQL Server and a list of Best of TechEd winners and product descriptions.
About Quest:
Established in 1987, Quest Software provides simple and innovative IT management solutions that enable more than 100,000 global customers to save time and money across physical and virtual environments. Quest products solve complex IT challenges ranging from database management, data protection, identity and access management, monitoring, user workspace management to Windows management.
RSS Feeds:

Quest, Quest Software, Spotlight and the Quest logo are trademarks or registered trademarks of Quest Software in the United States and certain other countries. All other trademarks and registered trademarks are property of their respective owners.