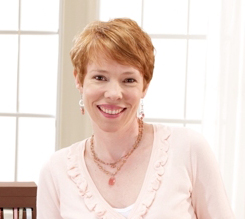 Crafting should be about having fun … these are projects that can be made with a few tools, a little time and a touch of creativity!
Clifton, NJ (PRWEB) July 10, 2012
Joy Macdonell, one of the best-known celebrities in the craft industry, is blogging for TLC's newest series, CRAFT WARS, airing Tuesdays at 10/9c.
Spotlighting a new crafting idea each week, Macdonell says her focus will be on creating on-trend projects that yield impressive results, without being too intimidating for the beginning crafter.
"Crafting should be about having fun … these are projects that can be made with a few tools, a little time and a touch of creativity!" says Macdonell.
The blog will appear on the CRAFT WARS website, amongst content from the show's judges: Stephen Brown, Erica Domesek and Jo Pearson, as well as the series' host and executive producer, Tori Spelling. Video clips on the site will highlight featured moments from the show, which pits everyday craft enthusiasts against each other in challenges encompassing different genres of crafting expertise.
Macdonell, who serves as the education director of the Spotted Canary School and EKSuccess Brands, also hosts Crafting at the Spotted Canary on PBS, and has previously hosted the television series Greetings from DIY, appeared on Paint, Paper and Craft! and been featured in Better Homes and Gardens. Spotted Canary, and its site, SpottedCanary.com, are brands within EKSuccess Brands.
About EKSuccess Brands
Established in 1978, EKSuccess Brands is one of the country's leading creative consumer products companies. Its diversified portfolio includes more than 10,000 inspirational and creative products covering paper crafting, needle crafting, stamping, jewelry making, kids' crafts, painting and more. Popular brands include K&Company™, Inkadinkado®, Dimensions®, Jolee's Boutique®, Sticko®, Perler®, Martha Stewart Crafts™ and American Girl Crafts®. EKSuccess Brands is a division of Wilton Brands Inc. For more details visit http://www.eksuccessbrands.com. Dream. Make. Celebrate™.
About TLC
TLC is a global brand that celebrates extraordinary people and relatable life moments through innovative nonfiction programming. A top 10 cable network in key female demos, TLC has built successful franchises around the Cake Boss and Say Yes to the Dress brands. In 2011, TLC had 28 series averaging 1.0 million P2+ viewers or more including Sister Wives, My Strange Addiction, Extreme Couponing, Toddlers & Tiaras, NY Ink, 19 Kids and Counting, and What Not To Wear.
TLC is available in more than 99 million homes in the US and 75 million households in 34 countries internationally. A destination online, TLC.com offers in-depth fan sites, exclusive video content, and original editorial covering style, home, food, and more. Fans can also interact with TLC via On Demand services, on mobile platforms, including an iPhone App, and through social media such as Facebook or @TLC on Twitter. TLC is part of Discovery Communications (NASDAQ: DISCA,DISCB, DISCK), the world's number one nonfiction media company reaching more than 1.5 billion cumulative subscribers in over 210 countries and territories.
###