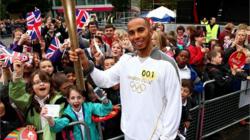 We are really looking forward to continuing the Flame's journey between Luton and Oxford and bringing the excitement of London 2012 to communities along the route
(PRWEB) July 09, 2012
On Monday 9th July, the London 2012 Olympic Torch Relay – presented by Coca-Cola, Lloyds TSB and Samsung – will travel 112.32 miles through 15 communities on its journey from Luton to Oxford.

Today the Relay will travel 112.32 miles
133 Torchbearers will carry the Flame
Evening celebration to take place in South Park, Oxford
Images from today can be downloaded here
The Relay will travel through the following communities: Luton, Dunstable, Milton Keynes, Bletchley, Buckingham, Winslow, Whitchurch, Aylesbury, Stoke Mandeville, Waddesdon, Bicester, Kirtlington, Woodstock, Kidlington and Oxford.
Highlights for today include:
6.36am – Lewis Hamilton is set to carry the Olympic Flame as the Torch Relay sets off from St Georges Square in Luton. Lewis is one of fastest men on four wheels and has become one of Britain's most iconic drivers in Formula One's history. He became World Champion in 2008, his second year in Formula One.
9.18am – Jessica Stalley, 16, from Bedford, will carry the Flame into Bletchley Park and in front of the house she will hand the Flame to Hazel Staten, 57, from Milton Keynes.
Jessica was nominated through the LOCOG public nomination campaign for the way that she coped with having an operation to straighten her spine and her aspirations to compete in the Paralympics.
Hazel was selected through the Lloyds TSB campaign for the way she fought and won the battle against leukaemia with a life saving bone marrow transplant from her brother.
12.43pm – Gemma Collis, 17, from Aylesbury, will carry the Flame at Stoke Mandeville Stadium in Aylesbury. In the centre of the stadium she will hand the Flame to Ian Estick, 44, from Milton Keynes, who will then carry the Flame out of the stadium.
Gemma was nominated by Sport England for her courage and determination in coping with a condition called Reflex Sympathetic Dystrophy (RSD). She volunteers at a range of events from school festivals to the UK School Games and World Wheelchair Basketball Championships. She has taken up Wheelchair Basketball and has been selected to play for the U25 Welsh Wheelchair Basketball Team.
Ian was nominated through the LOCOG public nomination for the work that he does with his charitable trust that he set up following the sudden death of his 23-month old son, Daniel.
3.44pm - On the approach to Blenheim Palace, Roland Read, 61, from Wheatley will pass the Flame to Graham Warland, 64, from Banbury with the Grand Bridge in the background.
Roland has run a Karate club for more than 30 years and was nominated through the LOCOG campaign.
Graham's passion is canoeing and he competes regularly in flatwater racing competitions. He was nominated through the Lloyds TSB campaign for his success in the sport and his work managing the Banbury & District Canoe Club.
3.57pm – Juliet Sparrow, 18, from Blakesley, will carry the Flame to the front of Blenheim Palace. On the steps she will hand the Flame to Patricia Pearce, 67, from Great Missenden.
Juliet was nominated through the LOCOG public nomination campaign for her courage and determination to overcome her broken back, which happened while she was trekking in Costa Rica to raise money for charity.
Patricia was nominated by British Airways for her work as cofounder of the children's charity, Dreamflight, which works with seriously ill and disabled children. Patricia works tirelessly to inspire fundraisers and spread the word about the charity
6.50pm – Malcolm Fretter, 67, from Wantage who was selected through the Coca-Cola campaign for his teaching and voluntary work will carry the Olympic Flame on to the stage at the Evening Celebration.
The evening celebration will take place in South Park, Oxford.
The evening celebration event begins at 5pm and will feature a variety of entertainment staged by LOCOG and the three Presenting Partners of the London 2012 Olympic Torch Relay - Coca-Cola, Lloyds TSB and Samsung - with support from Oxford City Council.
Young Guns will perform at the Evening Celebration. A dance troupe will also provide a unique fusion of street performance, theatre and sport and there will also be a performance from dance act Twist and Pulse. There will also be performances by local acts.
Towards the end of the two-hour show, the last Torchbearer of the day – Malcolm Fretter - will light a celebration cauldron on stage at the event which will enable the Olympic Flame to be seen by the audience.
Other Torchbearer highlights include:
Nominated through LOCOG's public nomination campaign - Rebekah Wagnell, 16, from Milton Keynes, will carry the flame in Aylesbury. Rebekah is a total inspiration, born with chronic renal failure and battling poor health throughout her childhood, at times desperately ill, she always had hope that she would be better and was a real encouragement to everyone who visited her and even on the really rough days always had a cheeky smile for everyone. When she was 9 she markedly deteriorated and, a year later in 2006, she received a kidney transplant from her Dad. That was 5 years ago. Last week she came back from the 18th World Transplant Games with 3 silver and 2 gold medals in the swimming events.
Gail Emms, 34, from Hitchins, will carry the Flame in Milton Keynes. Badminton Olympic silver medallist Gail Emms, selected by Lloyds TSB because of her contribution to her sport and inspiring young athletes through his support of Lloyds TSB National School Sport Week.
Nominated through LOCOG's public nomination campaign - Neil Heslop (OBE), 47, from Beaconsfield, will carry the Flame in Aylesbury. Neil was a very talented rugby player at a young age however in his early teens he was diagnosed with retinitis pigmentosa and lost a substantial amount of his field of vision. In the first year of his degree at Newcastle University he completely lost his sight. Undeterred he took 6 months out to learn Braille and returned to University to complete his law degree. He then pursued a career in telecoms after leaving university and in 1991 undertook an intensive one year MBA at Cranfield which had never been done before by someone who was blind. In 1992 he founded a national charity Blind in Business to help blind youngsters into employment. The charity has raised several million pounds since its inception and each year now helps more than 100 blind graduates into jobs and works with many schools for the blind in the UK in raising employment expectations. In 2002 Neil was awarded an OBE for his services to charity and to telecoms.
James Williams, Director, Olympic Torch Relay, Coca-Cola Northwest Europe & Nordics, said: "Today, more Coca-Cola Future Flames will help us celebrate the fifty-second day of our amazing journey, including Richard Bazeley and Marc Pulley who carry the Olympic Flame in Aylesbury. We will also get everyone to Move to the Beat tonight as we bring Young Guns to the stage in Oxford."
Sally Hancock, Director, London 2012 Partnership at Lloyds Banking Group, said: "We are really looking forward to continuing the Flame's journey between Luton and Oxford and bringing the excitement of London 2012 to communities along the route. Lloyds TSB is proud to be creating as many opportunities as possible for people to get involved as the Olympic Flame passes their door. We're calling on everyone to cheer on their local Lloyds TSB Torchbearers – extraordinary people like Sasha Harvey and Dawn Oliver, running in Dunstable and Aylesbury. The Lloyds TSB Flame Followers will also light up the route ahead of the Flame, before their Flame Followers Spectacular performance in Oxford's South Park tonight."
Sunny Hwang, Vice President & Head of Global Sports Marketing, Samsung Electronics, said: "Samsung is delighted to be a Presenting Partner of the Olympic Torch Relay and we feel the Torchbearers selected really do demonstrate the 'gone the extra mile' community element that lies at the heart of our London 2012 Olympic Torch Relay campaign."
For further information please contact the London 2012 Press Office.
Notes to editors:
Each day two short packages of broadcast footage will be made available. The packages will be available via the Footage library – accessible from the Media Centre on london2012.com and direct from this link http://footagelibrary.london2012.com. Media will need to register for access in advance. Registration is free.
The broadcast of the Olympic Torch Relay is provided for Editorial Use Only. There can be no commercial association, no third party association and no commercial/ad superimposition on the video footage, unless the prior written consent of the IOC is acquired.
About the London 2012 Olympic Torch Relay Presenting Partners:
As the longest standing Presenting Partner of the Olympic Torch Relay, Coca-Cola will be using its heritage and experience to spread excitement across the UK ahead of London 2012. Coca-Cola's national nomination campaign - Future Flames – has focused on finding inspirational young people from across the country to have the once in a lifetime opportunity to carry the Olympic Flame. This summer Coca-Cola will celebrate these Future Flames: young people who use their passions in areas like sport and physical activity, music and dance, and community and the environment; to spread happiness in their local communities.
As the only National Presenting Partner of the London 2012 Olympic Torch Relay, Lloyds TSB will be taking the inspiration and excitement of the Olympic Flame right to the heart of communities across the UK. As part of Lloyds Banking Group, Bank of Scotland will be the National Presenting Partner in Scotland. We are creating as many opportunities as possible for communities the length and breadth of the UK to get involved as the Flame travels past their front doors.
Lloyds Banking Group is Britain's biggest corporate investor in UK communities and in 2011 invested £85 million and as part of the Group's Community Investment Programme, we've launched the Lloyds Banking Group Community Fund to give back to the communities in which we operate and pass through on our journey with the Olympic Flame. We're inviting everyone to visit the Lloyds TSB stand at each Evening Celebration to vote for a community project in their area that inspires and supports young people. By voting at the Evening Celebration members of the public will automatically enter a draw to win four tickets to London 2012. The two projects that receive the most votes at each locality will each win a £5,000 grant from Lloyds Banking Group. At the Lloyds TSB site members of the public will also have the opportunity to have their photo taken with the Olympic Torch, meet Lloyds TSB Local Heroes – the future stars of Team GB and ParalympicsGB – and get up close to our Flame Followers.
As a Presenting Partner of the London 2012 Olympic Torch Relay, Samsung aims to encourage everyone to be part of the greatest show on Earth to make London 2012 'Everyone's Olympic Games.' We aspire to offer new and memorable experiences for everyone around the world through our own innovative and smart wireless technology. Samsung is providing 1,360 Torchbearers, who have "gone the extra mile" by contributing to the local communities, through its worldwide public nomination campaign. In total over 25,000 nominations were received. Samsung will support towns and cities to celebrate the exciting moment of the Torch Relay and help showcase Great Britain's cultural landmarks to provide a more enjoyable experience to everyone. The evening celebrations that will be staged by Samsung in 66 towns and cities throughout the Olympic Flame's journey across the UK, will allow Samsung to entertain the community they are visiting. The Samsung caravan, complete with LED screen on the side showcasing runners and goodwill messages, will follow the Torchbearers around the UK cheering up everyone to celebrate the Torch Relay with music and interaction with local communities. It is Samsung's ambition that London 2012 will be an event that reaches and involves more people than on any other Olympic Games occasion.
The Supporters of the London 2012 Olympic Torch Relay are:
Worldwide Olympic Partners Procter and Gamble and Visa, Tier One Partners adidas, BMW, BP, British Airways, BT and EDF, Tier Three Providers Aggreko, Holiday Inn and NATURE VALLEY.
The BBC will be providing extensive coverage of the Torch Relay on television, radio and online. This will include special Breakfast shows on every BBC local radio station, and extended live coverage of an evening celebration event in every Nation and English Region. Full details of the coverage will be at bbc.co.uk/2012.
London 2012 Games partners:
The Worldwide Olympic Partners who support the London 2012 Olympic Games and the National Olympic Committees around the world are Coca-Cola, Acer, Atos, Dow Chemical Company, GE, McDonald's, Omega, Panasonic, Procter and Gamble, Samsung and Visa.
LOCOG has seven domestic Tier One Partners - adidas, BMW, BP, British Airways, BT, EDF and Lloyds TSB. There are seven domestic Tier Two Supporters – Adecco, ArcelorMittal, Cadbury, Cisco, Deloitte, Thomas Cook and UPS.
There are now twenty-eight domestic Tier Three Suppliers and Providers – Aggreko, Airwave, Atkins, Boston Consulting Group, CBS Outdoor, Crystal CG, Eurostar, Freshfields Bruckhaus Deringer LLP, G4S, GSK, Gymnova, Heathrow Airport, Heineken UK, Holiday Inn, John Lewis, McCann Worldgroup, Mondo, NATURE VALLEY, Next, Nielsen, Populous, Rapiscan Systems, Rio Tinto, Technogym, Thames Water, Ticketmaster, Trebor and Westfield