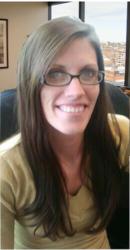 We are a family. We help each other, we support each other, and as a result we are growing together. I'm extremely thankful for that.
Savannah, GA (PRWEB) July 12, 2012
Foundation Financial Group has announced the promotion of Jamie Selvy to section manager for the company's Savannah Regional Sales Center, located at 17 Park of Commerce, Suite 202 in Savannah, Georgia.
Selvy, originally from Woodsfield Ohio, has over five years of industry experience within the mortgage and financial services field. This is her fourth promotion with Foundation Financial Group since she began employment in November of 2011.
"Jamie is an example employee and has been an invaluable asset to our Savannah mortgage division. Her work ethic is unmatched and she has remained in the top ten percentile of sales rankings since she started," said Foundation Financial Group's CEO Mark W. Boyer. "I am confident that in her new role, Jamie will increase the performance of her Savannah team."
Foundation Financial Group recognizes top performers within the company and rewards excellence in sales leadership and management through its ranking and award programs. Selvy earned her first Sales Excellence Award in her first month of employment. Each month since, she has earned additional Sales Excellence Awards through coaching, motivating, and leading her team to success.
"I am so excited about the opportunities I have been given here at Foundation Financial Group. I have a great group of leaders who are always inspiring and challenging me and an amazing team of employees who help capture our group goals," said Selvy. "We are a family. We help each other, we support each other, and as a result we are growing together. I'm extremely thankful for that."
Selvy also volunteers her time at various non-profit organizations and events including ASPCA, Humane Society, United Way, and America's Second Harvest of Coastal Georgia.
About Foundation Financial Group
Foundation Financial Group, one of the nation's fastest-growing financial services companies, specializes in mortgage lending, property and casualty insurance, life insurance, retirement services, personal taxes and corporate tax services. Foundation Financial Group operates seven regional centers as well as a branch network of retail storefronts across the Midwest. Foundation Financial Group offers mortgage refinancing and first-time buyer lending through traditional financing, as well as Federal Housing Administration and other government-backed home loan programs. Foundation Financial Group enjoys an A+ rating from the Better Business Bureau, the highest accreditation the BBB gives, and an industry-leading Federal Housing Administration compare ratio. For more information, call 866-659-3200 or visit http://www.ffg.com.