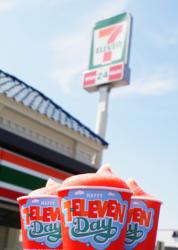 "Oh Thank Heaven"
New York, NY (PRWEB) July 09, 2012
WHAT: Grab a Slurpee, mini-birthday attire and let's get ready to party! July 11, aka 7-Eleven Day, commemorates 7-Eleven's 85th birthday! And the nation's largest convenience store is calling for a Slurpee celebration by inviting guests across the U.S. to join the party at their local 7-Eleven stores and receive a free 7.11-oz Slurpee drink from 11 a.m. to 7 p.m.
Since 2002, millions of free Slurpee beverages have been given away on July 11th and 7-Eleven estimates this to be the biggest birthday to date as they prepare to give away 7 million free Slurpee drinks. In addition, 7-Eleven's Slurpee drink is celebrating 45 flavor-filled years on July 11 making the day a double brainfreezin' good time. To continue the celebration, 7-Eleven invites customers in store to peel, play and win with Big Summer Sweeps' game pieces found on specially marked products throughout the store. Stop by your local participating 7-Eleven store through the end of August to win big prizes like a Pepsi Max® VIP trip package to the football championship or a BMW® Motorbike F800 GS.
To continue the celebration, 7-Eleven unlocked the vault and is revealing a historical commercial montage – showcasing the evolution of the convenient store and featuring the ever-catchy "Oh Thank Heaven" slogan.
Birthday bash local event details in your area available by request.
For downloadable videos and images, go to: http://www.magicbulletmedia.com/MNR/7ElevenDay/
B-Roll: Historic Montage, In-Store Product Shots & Photo Stills.
SATELLITE INFORMATION:
Monday, July 9, 2012
1:45 PM – 2:00 PM, ET
(10:45 AM – 11:00 AM, PT)
Galaxy 19 (C), Transp. 08
DL Freq.: 3860 (H)
Tuesday, July 10, 2012
10:45 AM – 11:00 AM, ET
(7:45 AM – 8:00 AM, PT)
Galaxy 19 (C), Transp. 08
DL Freq.: 3860 (H)
Wednesday, July 11, 2012
3:45 AM – 4:00 AM, ET
(12:45 AM -1:00 AM, PT)
Galaxy 19 (C), Transp. 08
DL Freq.: 3860 (H)
Trouble #: (954) 838-0900 or (212) 722-3195; Audio: 6.2/6.8
MORE: 7-Eleven began its run in 1927 when a Southland Ice Company employee started selling bread, milk and eggs on an ice dock in a Dallas suburb. The small ice company has grown into a major international retailing chain with 9,300 7-Eleven stores in North America and approximately 46,800 stores worldwide. Find out more at http://www.7-Eleven.com.