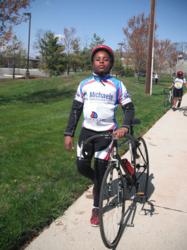 Social Services programs that promote healthy, fun activities provide positive outlets for children and teens living in Philly's affordable housing communities.
Philadelphia, PA (PRWEB) July 09, 2012
WHAT:
Team Jackie Jones, a competitive youth cycling team sponsored by The Michaels Organization, will host Philadelphia City Council President Darrell Clarke, for a cycling and safety demonstration and executives of The Michaels Organization will recognize the City Council President for his unwavering support of affordable housing in the city.
WHEN:
Wednesday, July 11, 2012, 1:00 p.m.
WHERE:
Montgomery Townhouses, 1836 North 20th Street, Philadelphia
WHO:
Philadelphia City Council President Darrell Clarke will join Michaels Development Company President Robert Greer and members of Team Jackie Jones, competitive youth cyclists from the affordable housing communities of Montgomery Townhouses, Kensington Townhouses, and West Poplar Apartments in Philadelphia and McGuire Gardens in Camden, N.J., for a cycling demonstration.
Details:
Interstate Realty Management, which provides property and asset management services to several affordable housing communities in the city of Philadelphia owned by The Michaels Development Company, is an industry leader in providing supportive services to families, children, and senior residents. Our programs include a partnership with the Cadence Cycling Foundation, a nonprofit youth development organization that uses competitive cycling as a means to connect with underserved youth, ages 9-18, and helps them grow into healthy, happy, and responsible adults by increasing physical fitness and well-being, building life skills, and developing post high school education goals.
To participate on Team Jackie Jones, the youth cyclists must maintain good grades in school and commit to regular training and practice sessions. The team, which is named for the late Jackie Jones, the first director of Interstate Realty Management's Social Services program, competes in local marathons and rode in the American Cancer Society's annual bike-a-thon in Philadelphia on Sunday, July 8.
The event July 11 at Montgomery Townhouses will provide an opportunity for the youth members of Team Jackie Jones, along with their families, to meet Councilman Clarke, and thank him for his support of affordable housing and social service programs for low-income families in Philadelphia.
About The Michaels Organization:
The Michaels Development Company and Interstate Realty Management are companies of The Michaels Organization, a family of eight integrated but independent companies dedicated to excellence in affordable, mixed-income, military and student housing. Michaels Development is the number one private-sector affordable housing owner in the country, having developed more than 55,000 units in 32 states, D.C., and the U.S. Virgin Islands. Interstate currently manages 38,000 housing units across 330 properties and is an industry leader known for its award winning supportive services programs. Visit http://www.TheMichaelsOrg.com for more information.