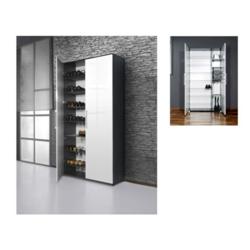 Furniture In Fashion the largest shoe cabinet supplier in the UK
(PRWEB UK) 28 July 2012
FurnitureInFashion proudly presents its incredibly large supply of shoe cabinets in the UK at very competitive prices. The company is offering wide range of colors, designs and styles in the shoe cabinets and has become one of the largest suppliers of shoe cabinets in the UK. Customers can either approach the showroom for buying these beautiful shoe cabinets or can visit online catalogue of FurnitureInFashion's website.
FurnitureInFashion aims to become one of the largest furniture retailers in the competitive market of UK by following the philosophy of durable furniture products at great prices. Asad Shamim, the owner of FurnitureInFashion said, "The shoe cabinets have been delicately crafted from the finest and carefully selected materials with preferably simple clean cut designs. We have followed recent trends closely in order to come up with ideal shoe cabinets which our customers can display in their hallways to make a style statement."
FurnitureInFashion has been into the online retail business since 2006. The company has been able to expand its catalogue with unlimited supply of different furniture items. FurnitureInFashion has added an enormous supply of shoe cabinets to its existing broad range of living room, bedroom, dining room, and office and bathroom furniture. Being the largest supplier of shoe cabinets, FurnitureInFashion has been able to make a significant name among the successful retailers in the UK. Asad said," The simplicity and elegance of these shoe cabinets combine well with the modern home décor which make them essential for hallways."
Being the largest supplier of shoe cabinets in the UK, FurnitureInFashion is offering these cabinets in different designs and materials as well. These shoe cabinets are available in materials like wooden, metal and some with reflective metal finish as well. The color range in these cabinets includes white to purples and pinks as well. The shoe cabinets are available in different styles including pull down cabinets, folding cabinets and simple storage compartments. These cabinets not only will add elegance to space but also provide modern storage units for any home. Discussing the shoe cabinets with reflective metal finish, Asad Shamim said," We are extremely excited to have such great variety in our shoe cabinets. Our designers have worked towards reaching the luxurious heights with such charming cabinets for modern home décor."
FurnitureInFashion along with expanding its showrooms in some of the biggest cities of UK is also planning to increase the capacity of manufacturing plant in Germany. Being the largest supplier of furniture in the UK, FurnitureInFashion is reaching out for new businesses around the globe. Asad said," It is important to point out that we are not only providing shoe cabinets but other hallway accessories and items like coat racks, coat stands, umbrella stands and hallway stands as well. We are committed to provide every home solution with our abundant furniture supply."
FurnitureInFashion is offering different categories in the shoe cabinets for hallways. These shoe cabinets are ideal for displaying in the hallways as these cabinets can add appeal and elegance in the overall décor of the home.
The shoe cabinets by FurnitureInFashion provide ideal solution for extra storage space in a compact and efficient way. Whether it is used in the hallway or living room, its minimalist unique design combined with quality metal or wood will add a touch of class to any modern room. Asad says that the company aims to provide consumers with 100% quality. FurnitureInFashion offers competitive prices in all its products with excellent customer and delivery services. For further details and information about the hallway furniture offered by FurnitureInFashion visit http://www.furnitureinfashion.net.