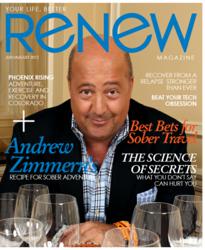 [Zimmern's] insights into life and recovery as a grand adventure dovetail perfectly with Renew's mission: To fuel a passion for living life to its full potential in recovery. -Steve Diogo
Chicago, Illinois (PRWEB) July 10, 2012
Andrew Zimmern is best known as the guy who will eat anything on the Travel Channel's hit show Bizarre Foods with Andrew Zimmern, but this month the James Beard Award-winner, TV personality, chef, writer and teacher shows a different side debuting on the cover of Renew magazine, candidly sharing his personal addiction recovery story.
Despite what fans may think, Zimmern says he doesn't taste all those delectably (or not so delectably) unique fares on Bizarre Foods for the gross-out or shock value. He does it, he says, for the experience, for the story and for the promise of bringing far flung cultures a little closer.
At 50 years old, Zimmern is on top of the foodie and entertainment worlds, with a new season of Bizarre Foods under his belt, a new book due out in the fall and 20 years of sobriety fueling his quest for unique culinary experiences and great stories.
"Food is great. Food with a story is even better. Food from the fringe with a story that no one's heard before? That's the best," Zimmern tells Renew.
With Renew, Zimmern shares his inspirations, struggles and the transformative power of travel. He also holds nothing back, sharing with readers his ups and his downs, without shame.
"In about three minutes, my friend told me where I was in my life," Zimmern tells Renew of getting sober. "He said, 'Look, you're 31. You're homeless. You're unemployable. No one trusts you. You can't get money. You can't con or hustle your way out of this.' And for whatever reason I was able to hear it."
The entire feature with Andrew Zimmern can be found in the July/August 2012 issue of Renew.
"What a thrill to be able to feature a personality like Andrew on our cover," Steve Diogo, editorial director of Renew media, says. "His insights into life and recovery as a grand adventure dovetail perfectly with Renew's mission: To fuel a passion for living life to its full potential in recovery."
Written by top addiction and wellness specialists, as well as those who face the daily challenges of real-world recovery, Renew magazine inspires readers to create and embrace a lifestyle of sobriety. With Renew, those in recovery can stay connected and stay the course — and their loved ones can find the encouragement and tools they need to restore and renew.
For more information about Renew magazine or to subscribe, visit RenewEveryDay.com.