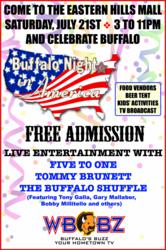 "It is a night that will give the citizens of Buffalo, Western New York, around the country and even the world, an excuse to party and to connect with other Buffalonians to celebrate what makes this area so special."
Buffalo, NY (PRWEB) July 10, 2012
WBBZ-TV is proud to announce the first annual "BUFFALO NIGHT IN AMERICA" Saturday, July 21st at the Eastern Hills Mall. "This will be a celebration of everything Buffalo," said WBBZ-TV owner Phil Arno. "It is a night that will give the citizens of Buffalo, Western New York, around the country and even the world, an excuse to party and to connect with other Buffalonians to celebrate what makes this area so special."
"Buffalo Night in America" is a two-fold event with a giant party from 3 to 4pm in the parking lot of the Eastern Hills Mall on Transit Road in Clarence. The celebration in the parking lot will have many of Buffalo's iconic restaurants like Ilio DiPaolo's, Andersons, Theodore's, Just Pizza, DiCamillo's Bakery, Louie's, Dunkin Donuts, LaRosa Pizza and many more. There will also be a beer tent, kid's games and activities.
Starting at 4pm there will be live music featuring Five to One, The Tommy Brunett Band and the Buffalo Shuffle featuring Tony Galla.
Then at 8pm WBBZ-TV will televise a three-hour program live from the studios located inside the Eastern Hills Mall and from the parking lot. The three hour program will feature local celebrities and dignataries, elected officials and entertainers.
The broadcast will also have a unique feature with live streaming internet video feeds from Buffalo fan clubs and supporters all around the nation. WBBZ-TV is asking local residents to contact former Buffalonians who now live out of town to sign on to the video streaming program ooVoo at http://www.oovoo.com, record a message stating how much you love the area and send it to the WBBZ-TV ooVoo account. Those recording will be played on the three hour broadcast beginning at 8pm. The WBBZ-TV broadcast will also be streamed live at http://www.wbbz.tv for those living outside the area.
The event is also sponsored by WBEN radio and The Buffalo News.