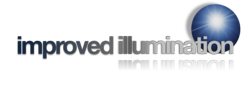 " Better lighting means a better customer experience, a better customer experience means repeat business, repeat customer means more business!" Jack Riely, Westwood, MA
Medfield, MA (PRWEB) July 11, 2012
"As the US economy continues to struggle, more and more of our clients and prospects are taking a serious look at each and every line item of their monthly operations budget. One area that is generating additional discussion is the cost of energy and lighting the exterior portion of their store, parking lots and gas station canopy fixtures in particular." says James Feeney, Managing Director of Improved illumination.
"As an example, canopy lights. Many existing units in use today are older, energy hungry 175W – 400W MH (metal halide) bulbs that operate 12-16 hours a day. Previously, upgrades involved the entire replacement of the physical unit: the lamp, ballast, wiring and the housing along with the possibility of carpentry work for each unit. That is an expense undertaking. Today, with our series of 100W / 135W induction retrofit kits, you simply open the unit, remove the bulb, the ballast and if required, the lens, and slide in the specific retrofit kit engineered based on the current existing unit. Available retrofit kits can effortlessly replace 95% of existing installed units including Scottsdale/Whiteway, Richard/Civic, 2x2 Dakota, Rivera and Jet Phillips."
"In addition to the monthly savings of 45-75% off their lighting bill, clients will benefit from the 100,000 rated lamp life (at 12 hours a day, that comes to over 22 years), along with lower maintenance costs, better "day light" like lighting and a 5 year warranty."
With over 10,000 of these canopy retrofit kits units already installed across the county, Improved illumination is pleased to add these proven, time tested products to our current offerings. We welcome the opportunity to discuss your specific lighting projects and invite you to contact us for a no-cost evaluation and conversation. .
Improved Illumination provides exterior and interior lighting solutions to commercial, industrial and educational clients. Based in Metro West, Boston, MA, Improved Illumination works with parking facilities, warehouses,hospitals, lodging organizations, car dealerships and a host of others to evaluate and provide cost saving suggestions to reduce their lighting consumption. These projects provide a solid ROI and a payback measured in months not years. Improved Illumination can be reached at 508 810 9205 or at info(at)improvedillumination(dot)com.