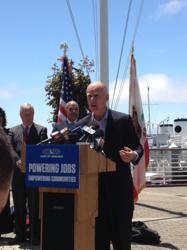 This effort to transform the former Oakland Army Base into a successful trade center will generate critically-needed jobs--Assemblymember Mary Hayashi
Sacramento, CA (PRWEB) July 09, 2012
Assemblymember Mary Hayashi (D-Hayward) extended her congratulations to the Port of Oakland upon their announcement of a $15 million grant from the U.S. Department of Transportation.
The Port of Oakland is one of 47 projects nationwide to win a TIGER (Transportation Investments Generating Economic Recovery) infrastructure grant. The Port of Oakland announced the grant today with California Governor Jerry Brown and U.S. Secretary of Transportation Ray LaHood at a press conference in Oakland.
"I would like to congratulate the Port of Oakland on this great accomplishment," stated Assemblymember Mary Hayashi. "This effort to transform the former Oakland Army Base into a successful trade center will generate critically-needed jobs and significantly boost the economy of the Bay Area."
Over 700 applicants competed for the TIGER grant. The Port of Oakland's Intermodal Rail Improvements for the former Oakland Army Base project was one of only 47 projects selected nationwide. It is also the largest Port project to win an award.
The City of Oakland and Port of Oakland have been working together on a strategic redevelopment plan for the Oakland waterfront area since the Oakland Army Base closed in 1999. The comprehensive plan will modernize and transform the base into an international trade and logistics center. The Intermodal Rail project in particular will boost the Port's ability to move a greater share of rail container traffic.
Assemblymember Hayashi is the Chair of the Business, Professions, and Consumer Protection Committee and serves the 18th Assembly District, which includes San Leandro, Hayward, Dublin, most of Castro Valley and Pleasanton, and a portion of Oakland, as well as the unincorporated areas of Ashland, Cherryland, San Lorenzo and Sunol.
# # #