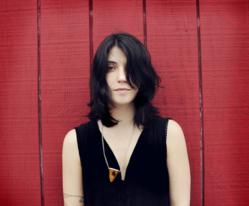 Cincinnati, OH (PRWEB) July 11, 2012
Haunting songstress Sharon Van Etten will return to Cincinnati this November in support of her excellent album Tramp. The shimmering sound of Sharon Van Etten's Jagjaguwar debut album Tramp both defies and illuminates the unsteadiness of a life in flux.
General admission tickets, $12 ADV & $15 DOS (plus applicable fees), go on sale this Friday July 13 at 10 AM at http://www.ticketmaster.com, http://www.tafttheatre.org, the Taft Theatre Box Office and all Ticketmaster outlets including select Kroger stores. Charge by phone at 1.800.745.3000.
Throughout the 14 months of scattered recording sessions, Van Etten was without a home -- crashing with friends and storing her possessions between varied locations. The only constant in Van Etten's life during this time was spent in the garage studio of The National's Aaron Dessner.
A two year journey brought her to that point of instability. Upon the release of epic (Ba Da Bing; 2010), Sharon Van Etten surprised the music world with a touching embrace. Having established herself as a reliable performer around New York, and coming off the release of her spartan first effort, Because I Was In Love (Language of Stone; 2009), Van Etten created a short album of diverse songs connected by a shared goal of expanded sound and her unmistakable voice. Fans quickly picked favorites, discovered their choices changing, then changing yet again. That is the magic of epic; the intricate, understated record covered so much ground within its 33 minutes, it required more than an initial half hour to absorb. Since epic's release, she has opened the Pitchfork Music Festival, played The Hollywood Bowl with Neko Case and at Radio City Music Hall with The Antlers, sung on new records for Beirut and Ed Askew, and collaborated with Bon Iver's Justin Vernon and Megafaun on the Songs Of The South project.
Dessner, the guitarist of The National, heard Van Etten early on, Dessner covered "Love More" from epic in collaboration with Justin Vernon. Van Etten contacted Dessner, and almost immediately they formed plans for working together. Dessner offered both a location for Van Etten to record new songs, as well as the opinions of a wise producer.
One year later, and Van Etten unveils Tramp, an album showcasing an artist in full control of her powers. Tramp contains as much striking rock (the precise venom of "Serpents," the overwhelming power of "Ask"), as pious, minimal beauty (the earnest solemnity of "All I Can," the breathtaking "Kevins," "Joke or a Lie"); it can be as emotionally combative ("Give Out") as it can sultry ("Magic Chords"). Contributions from Matt Barrick (Walkmen), Thomas Bartlett (Doveman), Zach Condon (Beirut), Jenn Wasner (Wye Oak),Julianna Barwick, and Dessner himself add a glowing sheen to the already substantial offering.
Van Etten has traveled far, and if her displacement took an emotional toll, she offset those setbacks with a powerfully articulated vision. And so, once again, each listener will discover their own moments along the way, and the debates as to the best song start anew.