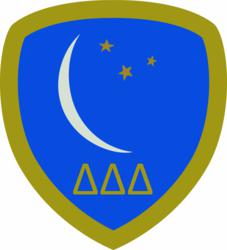 Arlington, Texas (PRWEB) July 10, 2012
Delta Delta Delta Fraternity announced today that it partnered with the location-based social network foursquare to launch a custom "True to Tri Delta" badge members. The organization is the first national fraternity for women to offer a custom foursquare badge.
Foursquare is a location-based mobile app where users can share and catalog their experiences by "checking in" at real locations. Foursquare users can unlock the new Tri Delta badge by following the Fraternity on foursquare and checking in at a collegiate chapter location three times. Users are offered incentives called Specials for checking in at a Tri Delta location, including discounts on merchandise from the Fraternity-owned store Delta Shop.
"Tri Delta is committed to leveraging social networking such as foursquare to facilitate communications for our collegiate and alumnae members," said Phyllis Grissom, Delta Delta Delta Fraternity President. "We hope members will use this app as a way to share their sisterhood with others."
Users can add "tips" to foursquare venues, which offer suggestions and information regarding the location. Delta Delta Delta added tips to all 138 collegiate chapter locations throughout the United States and Canada that includes information such as founding date and names of significant Tri Deltas that belong to the chapter. Collegiate members are encouraged to add their own tips and pictures to their chapters' foursquare site.
"Foursquare augments our social networking channels by providing our collegiate members with the opportunity to become familiar with each chapter. We hope that by using foursquare, our members will be able to learn more about their sisters all across North America from the sisters themselves," said Cari Cook, Executive Director.
About Tri Delta
Founded in 1888, Tri Delta is a leader among social Greek organizations through its passion for progress and visionary thinking. Through partnerships with nationally recognized organizations like St. Jude Children's Research Hospital, award-winning publications like The Trident and innovative collegiate and alumnae initiatives, Tri Delta is committed to leveraging our timeless values to revitalize the sorority experience. For more information, please visit http://www.tridelta.org or call (817) 633-8001.
###