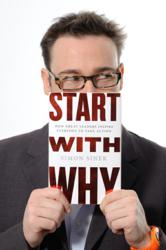 This Guide is designed to help job seekers stand out in today's highly competitive job market so they can land a job they'll love and go home every day fulfilled by their contributions.
New York, New York (PRWEB) July 10, 2012
The latest report from the U.S. Department of Labor shows that the number of unemployed persons (12.7 million) in the U.S. was essentially unchanged in June 2012, and the unemployment rate held at 8.2 percent. Globally there are currently more than 200 million people worldwide who are unemployed, including 75 million who are young people. Hiring continues to remain sluggish around the world, and the end result is a hyper-competitive job market where many qualified job seekers are simply overlooked in the hiring process due to the overwhelming volume of applicants.
Simon Sinek, the bestselling author of "Start With Why" and world-renowned expert on leadership who has inspired millions of people through his TED talk, is applying his thinking to help people find a job they love. Sinek has developed a much-needed job search guide to help every unemployed person not only land a job, but land the job of their dreams. "Stand Out In The Job Market" is a complete guide to helping the unemployed or the "underemployed" (those not satisfied with their current job), discover techniques to find a job in which they will go home each day fulfilled by the work they do.
Does this sound familiar? You send out your resume, you attend job fairs, you go from job interview to job interview, and yet you find yourself with no callbacks and no job offers. According to Sinek, "Nearly every resume on the planet is an uninspiring list of accomplishments and qualifications, which is certainly no way to inspire any employer or even stand out from everyone else who is equally qualified for the job."
Sinek continued, "What lands someone a job interview is taking the unconventional approach with a resume that starts with WHY, and encourages you to write more personally and allows you to stand out in today's highly competitive job market."
In the "Stand Out In The Job Market" guide, Sinek addresses the key steps in an effective job search along with strategies and solutions to stand out from the crowd:

Tips on how to conduct a Why-driven job search from resume to interview
Exercises to help you create/rework your job search tools
Introduction to The Golden Circle and how it applies to your job search
Exercises to help you get a sense of your Why and Hows
How to write a compelling, Why-driven resume
How to write an inspiring cover letter
How to ensure your elevator pitch starts with Why
How to use the interview to make sure it's the right place for you
According to Deloitte's Shift Index Report, 80% of people go home at the end of the day unfulfilled by the work they do. It is Sinek's dream to reverse that statistic. "This Guide is designed to help job seekers stand out in today's highly competitive job market so they can land a job they'll love and go home every day fulfilled by their contributions," stated Sinek.
"Stand Out In The Job Market" was inspired by Simon Sinek's bestselling book "Start With Why", which was recently included on both the Chairman of the Joint Chiefs of Staff and United States Special Operations Command Commanders 2012 reading lists.
"Stand Out In The Job Market" includes introductory exercises to implement The Golden Circle, the naturally occurring pattern grounded in the biology of human decision-making that explains why we are inspired by some people, leaders, messages and organizations over others. As the book "Start With Why" demonstrates, those that inspire start with "Why".
"I believe 'Stand Out In The Job Market' will not only equip job seekers for a successful job search," Sinek explained, "But the Guide will inspire them to start with 'Why' in all areas of their life."
"Stand out In The Job Market" is available as a digital download for $24.95 at http://www.startwithwhy.com.
About Simon Sinek and "Start With Why"
Described as "a visionary thinker with a rare intellect," Simon Sinek teaches leaders and organizations how to inspire people. An author, speaker and trained ethnographer, Sinek is fascinated by the leaders and companies that make the greatest impact in the world: those with the capacity to inspire. He has discovered some remarkable patterns in how they think, act and communicate and he has devoted his life to sharing his thinking in order to help other leaders and organizations inspire action.
Sinek's unconventional and innovative views on business and leadership have attracted international attention and earned him invitations to meet with an array of leaders and organizations, including: Microsoft, MARS, SAP, Intel, 3M, the United States Military, members of the United States Congress, multiple government agencies and entrepreneurs. Sinek has also had the honor of presenting his ideas to the Ambassadors of Bahrain and Iraq, at the United Nations and to the senior leadership of the United States Air Force.
Simon Sinek is leading a movement to inspire people to do the things that inspire them.