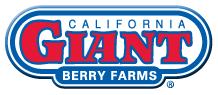 Watsonville, California (PRWEB) July 10, 2012
California Giant Berry Farms, a year-round producer of fresh strawberries, blueberries, blackberries and raspberries, is featuring the Giant Fans of Baseball promotion for consumers this summer, timed perfectly for peak berry and baseball season.
From July 9 through August 19, consumers can enter the Giant Fans sweepstakes weekly for a chance to win a $100 gift card to Play it Again Sports. A popular retailer carrying affordable sports equipment for the whole family, Play it Again Sports has locations nationwide and is known for supporting local communities. To participate, consumers simply scan the QR code on California Giant Berry Farms' packaging, visit California Giant's website or Facebook page. California Giant will also be offering unique ways to incorporate berries into game day while encouraging consumers to share their own recipes.
The company first featured the "Giant Fans of Baseball" promotion on their social networks in the summer of 2011 in conjunction with their sponsorship of youth summer and baseball camps, advertising on Bay Area radio station KNBR and the popular MLB season. Support and participation was so successful with both consumer and trade audiences, California Giant decided to "play" the hit program again for this year's summer season. Through the promotion, California Giant shares its support for youth sports and America's favorite pastime while positioning their berries as a healthy addition to game day snacks and appetizers.
In addition to the weekly sweepstakes, consumers in the San Francisco area can mark their calendars for August 12th, when California Giant will be making an appearance at Junior Giants Day at two locations in the AT&T Park along with 4,000 Junior Giants players and coaches. California Giant Berry Farms will give away fresh strawberries to fans until supplies run out. California Giant would like to encourage people outside of the San Francisco area to check out similar events being held at their favorite baseball stadiums this summer.
California Giant has a history of dedication to consumer outreach and engagement using similar exciting promotion opportunities, co-partnerships, social media and consumer-focused web content. The company also recently rebranded their blog, The Buzz, to boost consumer enjoyment, knowledge and engagement with the company and its products.
"We strive to create dynamic, two-way communications with our consumers and share those successes with our retail partners," said Cindy Jewell, director of marketing for California Giant Berry Farms. "We use promotions like Giant Fans of Baseball to connect with our consumers in unique ways, by engaging in conversations about the things they are directly interested in."
About California Giant Berry Farms
California Giant Berry Farms grows and ships over 20 million trays of berries annually (200 million pounds). A privately held company based in Watsonville, California, the company produces strawberries, blueberries, blackberries and raspberries and encompasses all aspects of growing, handling and shipping of fresh berries. The management and employees know the future depends on the actions of today and places concerns for the environment, food safety, excellent quality and service at the core of their business.