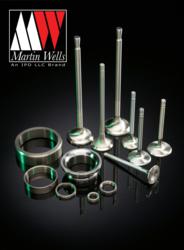 Torrance, CA (PRWEB) July 10, 2012
Industrial Parts Depot, LLC (IPD), a manufacturer of engine parts for heavy-duty diesel and natural gas powered equipment, has acquired Martin Wells, a manufacturer of valve seats and valves. Under the terms of the agreement, IPD acquires all of Martin Wells assets, including the Martin Wells™ and "Well-Tite"™ brand names. Well-Tite, a proprietary metal alloy, is considered a standard in the valve seat industry.
"IPD is investing heavily in future growth through a combination of internal product development and external acquisitions," says Brian Steffens, IPD's Director of Business Development. "We are very excited to add the broad range of Martin Wells valve train components to IPD's portfolio."
"IPD and Martin Wells both have a rich history, and share many of the same values, especially for high quality," adds Mike Clogg, IPD's President. "We welcome Martin Wells customers, suppliers and employees to the IPD Family."
Martin Wells will continue to operate from their current location in Los Angeles, California. For information on IPD, please visit http://www.ipdparts.com. For information on Martin Wells, please visit http://www.martinwellsco.com.
Contact: Egan Hernandez
Email: ehernandez(at)ipdparts(dot)com
Phone: (310) 602-5317