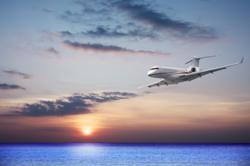 The Olympics gives us the opportunity to introduce the benefits of our services to a host of new customers.
London, UK (PRWEB UK) 10 July 2012
Just in time for the upcoming 2012 Olympic Summer Games in London, Paramount Business Jets (PBJ) announces enhanced, last-minute pricing packages for customers seeking an unparalleled private jet charter experience, allowing them to travel to the London Games in the utmost luxury and comfort. The Games of the 30th Olympiad run July 27-August 12, 2012.
Some examples of Paramount Business Jets' comprehensive Summer Olympics Packages include one-way travel from New Jersey's Teterboro Airport (TEB) to London's convenient Luton Airport (EGGW) onboard either a Bombardier Challenger medium-size jet for $60,500 or a fast Cessna Citation X for $71,500. Passengers may also choose to fly onboard a Gulfstream IV large-cabin premium jet from Teterboro to London for $84,590 or from Florida's Opa-Locka Executive Airport (OPF) for $69,300. Similar packages are also available for travel to the London Games from the West Coast.
European passengers may opt to fly to Luton from Paris-Le Bourget (LFPB) onboard a Cessna Citation Mustang for $5,500 or an Embraer Phenom 300 light jet for $10,260. Flights from Hamburg Airport (EDDH) to Luton on a Cessna Citation Sovereign are available for $12,650.
PBJ encourages anyone interested in learning more about these and other offerings to contact the company's experienced charter professionals at +1-877-727-2538, or obtain a quick private jet charter quote to London online.
All Summer Olympic travel packages feature Paramount Business Jets' exclusive Transparent Private Jet Charter Pricing, which includes crystal-clear invoicing detailing operator pricing and PBJ's commission, as well as your savings -- thus eliminating any guesswork over charges.
"We feel that any business advertising fair pricing should also be open about it," said Paramount Business Jets founder and CEO Richard Zaher. "Response has been overwhelming since we introduced our Transparent Private Jet Charter Pricing system in 2010. We've found a lot of decision makers not only enjoy traveling onboard such excellent aircraft, but they also appreciate doing business with someone they can trust.
"The Olympics gives us the opportunity to introduce the benefits of our services to a host of new customers," Zaher added.
In addition to offering choices ranging from economical very-light jets to premium large-cabin transcontinental aircraft such as the B737-based Boeing Business Jet, the executive jet charter professionals at Paramount Business Jets also have the expertise necessary to organize all aspects of your trip.
PBJ's private jet charter Olympic packages include air transportation on a variety of luxurious aircraft, as well as ground transportation to and from the events and venues. Services include preclearance security procedures to ensure your trip is comfortable, stress-free, and safe. For an additional fee, Paramount Business Jets will also arrange concierge services such as hotel or resort accommodations, gourmet in-flight catering, VIP Olympic tickets, and more upon request.
"Another benefit of traveling onboard aircraft arranged through Paramount Business Jets is participation in our carbon offset program, offered through partnership with Terrapass," Zaher added. "Responsible care for our environment is a great concern to our industry, especially given recent measures implemented by the European Union intended to reduce carbon emissions from commercial aircraft. Terrapass allows our customers to purchase 'carbon credits' for their flight, which are then invested by Terrapass into projects and companies producing clean alternatives such as farm power, landfill gas capture and wind energy."
Paramount Business Jets' comprehensive packages for the Summer Olympics will make your Olympic travel both convenient and efficient. PBJ encourages you to contact us should you have any questions, comments or concerns. To book a Private Jet Charter Olympic package and/or discuss your private jet travel plans with a charter professional, please contact our experienced team at + 1-877-727-2538.
******
Paramount Business Jets provides high end private jet charter service worldwide. A leader in the private jet charter industry, Paramount was founded in 2005 by a graduate of Embry Riddle Aeronautical University. Known for its exceptional service and cost savings Paramount Business Jets has become the choice of business executives worldwide. For more information, visit http://www.paramountbusinessjets.com.