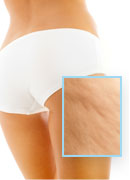 Eliminate those nasty dimples in a single treatment!
Las Vegas, NV (PRWEB) July 11, 2012
Cellulite has plagued the lives of many women across the globe. Those dimples, uneven skin and cottage cheese look may be a thing of the past. MyShape Lipo is now offering a unique anti cellulite treatment that is changing the game for cellulite reduction treatment. In a single treatment patients can virtually eliminate those nasty dimples that cause so many women to cover up. The new Laser Cellulite treatment is a minimally invasive procedure that treats problem at it's source.
Many people believe that they can control cellulite with exercise and diet to reduce the fat in the area. The cause of cellulite is not entirely the fat, but rather the connective tissue within the fat. This is why even very thin women can have an abundance of cellulite. As individuals age, hormones, genetics, and dramatic weight change can play a role in the appearance of cellulite. All of these factors contribute to the connective tissue getting stiff and less compliant leading to isolated pockets and bulges of fat, which creating the dimpling effect of cellulite.
Most women have tried every cream, massage and cellulite treatment on the market. Unfortunately, all of these treatments yield minimal results and the cellulite reduction is temporary. Many of these require multiple treatments over long periods of time. The Laser Cellulite treatment at MyShape Lipo is quickly making all of the other treatments obsolete.
How does it work? With micro instruments and a YAG Laser, the specialist at MyShape Lipo performs this revolutionary cellulite treatment under local anesthesia right in their office. In order to address the cause of cellulite, the specialist will use the instrument to release the connective tissue pulling down on the skin causing dimples. One can actually see the dimples disappear right before their eyes. In addition to releasing the connective tissue, the laser will melt the fat and tighten the skin. Studies have shown that the laser will stimulate collagen growth for 6 months after the procedure leaving the patient with thicker, tighter and smoother skin. The treatment takes about 1-1.5 hours and patients can return to work the next day.
MyShape Lipo of Las Vegas is a specialty clinic that focuses on liposuction, fat transfer and cellulite reduction. Patients come from around the globe for the specialized services and affordable rates. They offer complimentary consultations that can be done via phone for out of town clients. Call 702-818-5476 for your appointment or visit them online at http://www.MyShapeLipo.com.