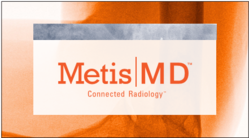 it's time for radiologists to step away from the computer screens and start interacting directly with patients. Our Services empower patients and help give them peace of mind." says Gregory Goldstein, MD
Chicago, IL (PRWEB) July 10, 2012
MetisMD is excited to offer on-demand access to U.S. radiologists for those who would like a radiology second opinion via their online portal at MetisMD.com. Patients can securely upload their medical imaging exams directly from the web site, receive a detailed second opinion report in 24-48 hours, and then discuss and review the findings with a Board Certified Radiologist. The new service, called MetisMD PatientConnect, costs $250 for an MRI, CT, or mammogram and $150 for ultrasounds or X-rays. This fee includes a free 15-minute phone consultation with the radiologist to discuss the findings and a one-year subscription to CloudConnect, a secure image vault where patients can store radiology exams, manage their images, and share their exams.
"Radiologist's need to speak to patients - it's time to step away from the computer screens and start interacting directly with patients. It's essential for people to understand the central role radiologists play in health care – and how our interpretations are a critical piece of the diagnostic puzzle," said Gregory Goldstein, MD, the President and CEO of MetisMD. "Second opinions in medicine are of critical importance, especially in radiology. We offer direct access to leading US-based radiologists who can talk to you about your radiology exam and help you better understand the findings and their implications."
According to MetisMD, this service is available for all radiology sub-specialties including Neuroradiology, Orthopedic/Musculoskeletal, Body Imaging (ultrasound, MRI, Computed Tomography, X-ray), Pediatric Radiology, Women's Imaging and Mammography, Vascular and Interventional Radiology, and Nuclear Medicine. The services are available to patients worldwide.
About MetisMD
MetisMD™ is a leader in online second opinion radiology interpretations. Quality patient care is our number one priority. Our Mission is empowering patients through comprehensive, personalized radiologic interpretations. Named for the Greek Titaness of good counsel, MetisMD is the shining example of accessible, expert second opinion radiology advice, delivered directly to the patient.
Connected Radiology is the vision of MetisMD Founder, Dr. Gregory Goldstein. A renowned radiologist, Dr. Goldstein saw the need to maximize collaboration and engagement, including his patients as a vital part of the care team. Connected Radiology is a comprehensive, personalized approach to radiologic secondary reviews, designed to empower patients. Every MetisMD physician is U.S. based, board-certified and fellowship trained, with at least 10 years of experience. Our radiologists are well-respected and published experts within their field.