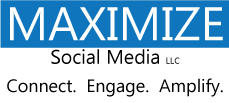 "By focusing on specific demographics, social media enables non-profits to target people that have the greatest potential to become volunteers and donors," said Craig Collins, Sr. Vice President of Maximize Social Media LLC
Los Angeles, CA (PRWEB) July 09, 2012
Social media management firm Maximize Social Media LLC announced its non-profit marketing program today, providing needed support to non-profits across the U.S. The firm will offer strategy development and complete campaign management designed to attract volunteers and potential donors. In addition to Facebook advertising and daily community engagement, the firm will also manage Twitter, Pinterest, and YouTube for non-profits.
"Many non-profits rely on word-of-mouth among staff and volunteers as their only form of marketing. While word-of-mouth can be effective, a well-designed and tightly executed marketing strategy is needed to reach a targeted audience. By focusing on specific demographics, social media enables non-profits to target people that have the greatest potential to become volunteers and donors," said Craig Collins, Sr. Vice President of Maximize Social Media LLC.
Maximize will fully integrate custom applications designed to expand the marketing reach and virally spread the message for non-profits. One such application enables Facebook fans to share a post on their personal wall, which will generate exposure of the non-profit to all of their Facebook friends and connections.
Maximize Social Media provides full social media management services in over 50 different verticals. The agency will fully integrate all aspects of social media for non-profit businesses that will find it more affordable to outsource the management rather than hire additional staff. Maximize provides both ad management, which will allow the non-profits to target specific demographics, as well as daily engagement by a dedicated social media manager.
Non-profits as well as their advertising agencies are invited to contact Maximize Social Media for a no obligation consultation at:
http://maximizesocialmedia.com/strategysession
About Maximize Social Media LLC
Maximize Social Media (http://maximizesocialmedia.com) is a leading provider of social media management services for clients in over 50 different verticals. With offices in Florida and Los Angeles, Maximize provides social media consulting and Facebook advertising management for clients in English speaking countries such as the US, Canada, and Australia. The company also features social media management outsourcing for busy social media mangers looking for additional assistance on a white label basis.