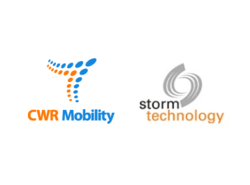 Our partnership with Storm Technology helps organizations address the increasing demands from their workforce for mobile access to key systems.
Redmond, Washington and Dublin, Ireland (PRWEB) July 10, 2012
CWR Mobility, the leading provider of mobility solutions for Microsoft Dynamics® CRM, and Storm Technology, one of Ireland's leading Microsoft partners, announced today a new partnership. The partnership enables Storm Technology to offer a mobile CRM solution for Microsoft Dynamics CRM based on award winning software from CWR Mobility. As part of this new business relationship, Storm Technology has joined the CWR Mobility Partner Program as a Certified Partner.
The solution enables sales executives, working virtually or on-the-road, to access and use the Microsoft Dynamics CRM solution, across all mobile platforms, including iPhone®, iPad®, Android™, BlackBerry® and Windows® Phone platform. Making CRM mobile and accessible via multiple platforms will drive end-user adoption and increase productivity, effectiveness and ultimately revenue generation.
"It's a simple fact that sales people spend most of their time on the road. Therefore it's common sense to ensure that they have the same access to the tools they need to do their jobs on the road as they would have in the office. Our partnership with CWR Mobility gives people access to the Microsoft Dynamics CRM solution regardless of where they are or what platform they are working from," comments Karl Flannery, Managing Director of Storm Technology.
Companies deploying the mobile CRM solution will benefit from increased productivity, as people can perform tasks on the road; improved accuracy and forecasting, due to increased user adoption in the field; and improved profitability, as a result of immediate access to important CRM data in the sales cycle.
"Our partnership with Storm Technology helps organizations address the increasing demands from their workforce for mobile access to key systems. CRM is a mission critical application for most businesses, so mobilizing Microsoft Dynamics CRM across multiple mobile platforms makes smart business sense," comments Mark H. Corley, CEO of CWR Mobility, the global 2011 and 2010 Microsoft Partner of the Year for Mobility.
About CWR Mobility
Our mission at CWR Mobility is to help organizations gain The Power of Close® – the power to get closer to customers and stay there, increase customer satisfaction and loyalty while reducing the costs of customer interaction, and create a more agile and effective customer-facing organization. By offering the most advanced, multi-platform mobile CRM solutions – based on the Microsoft Dynamics CRM platform – CWR Mobility continues to set the mobility standard for the entire CRM industry. CWR Mobility and its partners uniquely empower customers to drive business results through rapidly deployed mobile applications.
About the CWR Mobility Partner Program
The Mobile CRM market is expanding rapidly, creating substantial opportunity for system integrators, value added resellers and consultants who help their customers gain The Power of Close. The CWR Mobility Partner Program provides these companies with the critical elements essential to successfully enter the mobile CRM market and deliver market-leading solutions to their customers based on best-in-class software products from CWR Mobility. For more information, or to inquire about partnership opportunities, visit http://www.cwrmobility.com/partners/become-a-mobile-crm-partner.
About Storm Technology
Storm Technology is a leading business technology consultancy that specializes in building solutions to help clients gain better value faster from the investments they have made in Microsoft technologies. They work with a diverse range of companies, both Irish and International, large and small and across many sectors and have offices in Dublin and Galway. For more information visit http://www.storm.ie or email Ronan O'Halloran at rohalloran(at)storm(dot)ie.
The Power of Close is a registered trademark of CWR Mobility BV. Microsoft, Microsoft Dynamics and Windows are either registered trademarks or trademarks of the Microsoft group of companies in the United States and/or other countries. iPhone and iPad are trademarks of Apple Inc., registered in the U.S. and other countries. The Trademark BlackBerry is owned by Research In Motion Limited and is registered in the United States and may be pending or registered in other countries. CWR Mobility BV is not endorsed, sponsored, affiliated with or otherwise authorized by Research In Motion Limited. Android is a trademark of Google Inc. Use of this trademark is subject to Google Permissions. Other trademarks mentioned in this press release may be held by their respective owners and/or their suppliers.