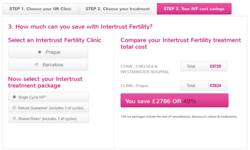 it's not unusual for inheritances, savings for a new house or even lottery winnings to help foot the bill
Mayfair, London (PRWEB UK) 10 July 2012
InterTrust Fertility's new IVF cost calculator, launched this week and is the first of its kind in the UK. It's freely available to anybody at InterTrust Fertility's website: http://www.intertrustmedical.com/ivf-cost-calculator/
Very quickly users can search almost any of the 65 fertility clinics in the UK, personalise their treatment plan, including the elements that are not always highlighted by many clinics. They can then go on to compare any of these to InterTrust Fertility's two partner clinics aboard. Women can include or exclude the cost of ICSI, Egg donation, Consultants' fees, mediations and even view the charges that clinics make towards the HFEA, the UK's governing fertility body in order to gain a very precise quote for the actual costs involved.
InterTrust Fertility (http://www.intertrustmedical.com) co-ordinates the treatment of UK women and couples seeking IVF treatment abroad, working with partner IVF clinics in Barcelona and Prague. Providing clear, simple pricing, consistent care, and quality management to international patients. The total cost of IVF treatment in Prague starts at £2500, including medications, which is around half the price a couple could expect to pay at home.
With three quarters of the 50,000 annual fertility treatments undertaken privately in the UK, the journey for women seeking treatment and the challenge to find the right fertility clinic is not an easy one. When it comes to the statistics surrounding IVF success rates, there's a mountain to climb in terms of research. For women trying to simply understanding just how these success rates are calculated and even if they are relevant to any particular individual, is almost a science in itself. Most significantly, although it's the first aspect people look at when starting out to find a clinic, it's rarely the deciding factor.
Women then face the task of calculating how much treatment will cost, bearing in mind that most will need two or more IVF cycles before successfully conceiving. Meaning that in Britain today, women routinely spend twenty to thirty thousand pounds, before successfully conceiving. For women and couples to really understand the cost implications of fertility treatment before they begin is not just important, it's often the choice between buying a new home or staying put or remaining in a well paid but unsatisfying job, even going into significant debt to fund treatment.
Previously, this could mean hours spent finding suitable fertility clinics in the area, trawling numerous websites to find each of the five or six prices that make up the total cost of a single IVF treatment cycle. Some clinics even require being contacted before their price list is made available.
James Walsh, Head of International Patients at InterTrust Fertility said, 'Having helped many international patients, there's always been a real problem when it comes to understanding exactly what fertility treatment will cost in Britain. Of course patients are initially concerned with the quality, availability and speed of treatment abroad, but after these aspects, patients' main concerns always centre around the cost of IVF treatment. That's why we've created the IVF cost calculator, so in just three steps, patients can see exactly what costs are involved and just how much these prices differ between the UK & abroad.'
He also adds, 'The money side of treatment is a genuine problem for most people and it's not unusual for inheritances, savings for a new house or even lottery winnings to help foot the bill. The desire to have children is profoundly strong and many couples will do all they can to conceive, whatever the cost. Private clinics are aware of this and can charge significant sums for treatment, particularly in London, where surprisingly there are fewer clinics per person than anywhere else in the country. With organisations like InterTrust Fertility, women and couples do at least now have choice of safe, reliable and professionally managed access to high quality fertility treatment abroad.'
To learn more about the IVF cost calculator contact InterTrust Fertility on 0800 824 7874 or to learn more the company visit the InterTrust Fertility website at; http://www.intertrustmedical.com