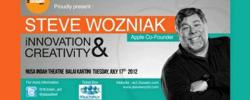 At the Innovations & Creativity Seminar, Tumiwa will share his experience in developing an e- commerce company in the Indonesian ecosytem, based on his experience with social commerce platform Multiply for the past one and a half years
(PRWEB) July 25, 2012
On july 17th Multiply hosted an Innovation & Creativity Seminar at Nusa Indah Theater Balai Kartini, Jakarta featuring Apple co-founder, Steve Wozniak, and Multiply Indonesia's Country Manager, Daniel Tumiwa
The event featured various discussions on digital technology innovations and the future of ecommerce. Participants and speakers included some of the leading ecommerce minds driving the massive growth and uptake of ecommerce in South East Asia. Apple co-founder, Steve Wozniak, and Multiply Indonesia's Country Manager, Daniel Tumiwa contributed their insights on the rapidly evolving landscape.
Tumiwa is overall known as an experienced executive with excellent traditional and digital media experience and also an acknowledged expert in youth marketing, music marketing, Internet marketing, publicity and event management. At the Innovations & Creativity Seminar, Tumiwa shared his experience in developing an e-commerce company in the Indonesian ecosytem, based on his experience with social commerce platform Multiply for the past one and a half years.
In Indonesia, Multiply.com is presently the largest online market with 85,000 sellers, 2.3 million registered users and 7 million unique monthly visitors. Having operated for a year and a half, the Indonesian office is the company's largest operational unit. The Multiply team in Indonesia has been actively participating in educating the market on e-commerce and supporting the sellers's community.
Offering comprehensive online shopping features which enables social interaction between buyers and sellers, the Multiply platform also accommodates the way Indonesians transact by implementing payment methods ranging from bank ATM, e-banking, mobile payment and credit cards. Multiply also offers buyer protection which eliminates the worry of shopping online, even for first time users. Presently, Multiply, Inc. is under the leadership of CEO Stefan Magdalinski. As Country Manager of its Indonesian office is Daniel Tumiwa.
For Media Inquiries, please contact Nirmala R. Hapsari, Media Relations & PR Manager, Multiply Indonesia +62 21 29303558, nirmala[at]multiply[dot]com