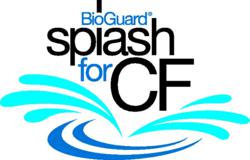 BioGuard Splash for CF is an opportunity for us all to enjoy summertime pool fun and support a worthy cause at the same time.
Lawrenceville, GA (PRWEB) July 10, 2012
This summer, a dip in the pool can make a splash for a very worthy cause with BioGuard Splash for CF, a nationwide cystic fibrosis (CF) fundraiser in support of CF patients and their local hospital care centers. This is the fifth year that BioGuard, one of the nation's premier suppliers of pool and spa care products, is donating a percentage of sales from sanitizer products to BioGuard Splash for CF. The company and its nationwide network of dealers has jumped in to help raise over $400,000 since the program began in 2008.
Many BioGuard dealers are also hosting local family fun events in their stores and collecting customer donations. Swim teams across the country have gotten into the action by swimming laps for pledges. Those wishing to help make a difference for CF patients in their communities can visit http://www.splashforcf.org for fundraising ideas or to make a local donation online.
BioGuard Splash for CF is the creation of 19-year-old Emily Schreiber, who was diagnosed with CF at age nine. She organized her first fundraising event, Laps for CF, only six weeks after her diagnosis. An avid swimmer, Emily recruited donors to pledge dollar amounts for each lap she would swim. Now in its tenth year, her Laps for Cystic Fibrosis Foundation is a successful non-profit with a variety of local and national events. Emily's efforts have raised more than $2.25 million to-date.
Through BioGuard Splash for CF, money is raised to support all areas of need for CF patients. Sixty percent stays in the community to support the CF Care Clinic at the local hospital. These clinics have used the funds to provide gas cards to families traveling long distances to get to the hospitals, purchase vitamins for patients, host CF family education days, and to send staff to national CF conferences. The remaining 40% is distributed by the Laps for CF Foundation to support other CF-related causes, including research.
"It is truly an honor for us to partner with Emily to raise funds for local CF care centers," said Scott Newton, BioGuard brand manager. "BioGuard Splash for CF is an opportunity for us all to enjoy summertime pool fun and support a worthy cause at the same time."
CF is the #1 genetic killer of children. It is a chronic, genetic disease where a defective gene and its protein product cause the body to produce a thick, sticky mucus. This mucus clogs the lungs, leading to life-threatening lung infections, and obstructs the pancreas, preventing natural enzymes from helping the body absorb and break down food. Thirty thousand children and adults suffer from CF in the United States. Before 1990, few children with CF lived to attend elementary school. Now, the median life expectancy is 37.
For more information on how to make a splash for CF, visit http://www.SplashForCF.org or http://www.facebook.com/BioguardSplashForCF.
About Laps for CF Foundation
Laps for CF Foundation is a nonprofit organization dedicated to raising awareness of cystic fibrosis and providing financial support in all areas of need for cystic fibrosis treatment, research, care and improved quality of life. For more information, visit http://www.LapsForCF.org.
About BioGuard
Based in Lawrenceville, Ga., BioLab, A Chemtura Company, supplies water treatment products for recreational and industrial applications on a global basis and specialty household consumer products in the U.S. BioGuard is a BioLab brand recognized as one of the nation's premier suppliers of pool and spa products. http://www.bioguard.com