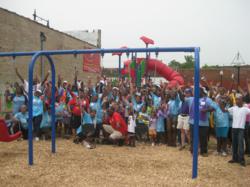 Washington, DC (PRWEB) July 10, 2012
WHAT: Webinar on Grassroots Fundraising with Groupon & Salsa: A KaBOOM! Success Story
WHEN: Wednesday, July 25, 2012 at 2 p.m.
WHERE: Online at http://www.salsalabs.com/groupon-kaboom
WHO: Patty Huber, Manager, Groupon Grassroots
Anna Morozovsky, Senior Manager, KaBOOM!
Amanda Foster, Account Manager, Salsa
EVENT DETAILS: In December 2011, the national nonprofit group KaBOOM! partnered with Groupon Grassroots, the philanthropic arm of the popular buying site, Groupon, to raise funds and awareness about their efforts to build great playspaces in underserved communities. Similar to a standard Groupon deal, donors could make a $20 or $50 gift to KaBOOM! by contributing at the discounted price of $10 or $25. Following the close of the campaign, KaBOOM! was able to effectively engage donors using the Salsa platform, and achieved an impressive 40% response rate from donors. Not only did KaBOOM! enjoy the initial fundraising success from the Groupon Grassroots campaign, they also were able to capture donor data and create ongoing relationships with their support base after the campaign ended. Go behind the scenes of this partnership through the Salsa webinar on July 25.
ABOUT SALSA: Salsa Labs (Salsa) helps non-profits and political campaigns to build, organize and engage a base of support. In one easy-to-use, integrated and flexible web-based system, groups of all sizes can manage their supporters and chapters, communicate through email and social media, fundraise, advocate, host events, and measure results. With all that as well as our top-notch training, support and strong online community, Salsa provides you the best value for your investment - letting you focus more resources on your mission. Salsa currently supports more than 2,000 organizations' relationships with more than 75 million donors, members, activists and fans all around the world. We can do more things together than we can apart. Visit Salsa at http://www.SalsaLabs.com.